Data Logger targets automotive communication systems.
Press Release Summary: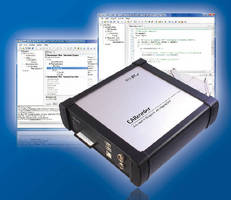 Featuring dual processor architecture, fanless CARcorder can record all data synchronously without losses in real time and with time stamp accuracy of 1 µs. Basic version provides 6 CAN interfaces, 2 LIN and 2 RS232 interfaces, and USB host/device interface as well as interface switchable between SAE J1850 and K/L-line. Device also includes digital and analog I/Os, each providing 8 channels. Plus version provides FlexRay interface with 2 channels.
---
Original Press Release:

CARcorder - Data Logger for FlexRay and CAN



IXXAT presents on the Embedded World fair the first version of its new data logger for automotive communication systems

The CARcorder is available as Basic or Plus version. The Basic version provides already six CAN interfaces (ISO 11898-2 / 11898-3), two LIN and two RS232 interfaces, an USB host/device interface as well as an interface switchable between SAE J1850 and K/L-line. In addition, the device comes with digital and analog inputs and outputs each providing eight channels. Furthermore, the Plus version of the CARcorder offers a FlexRay interface with two channels.

The two processor architecture of the CARcorder enables the fanless device to record all data synchronous and without any losses in real time and with a time stamp accuracy of 1 µs.

The device is delivered with a rugged aluminum case, an integrated UPS for up to 10 seconds of power cut and it has a power consumption of less than 10 mW in deep sleep mode. The wake up is initiated with the first valid message, which will be recorded also. The power supply can be made in a wide range between 6.5 and 40 V DC.
With the PC-based software tool, the device can be configured via Ethernet, a direct USB connection or an USB stick. The software also enables the user to define
trigger conditions and to set-up diagnostic tasks. The bus configuration is done by importing the related bus description files (CANdB, FIBEX, A2L, ODX, open XML).

Besides the CARcorder, IXXAT presents further products for the automotive area on the fair, like the Automotive Development Platform ATP, FlexRay/CAN interfaces, analysing tools and gateways.

For further information about the CARcorder please visit ixxat.de.

General information about IXXAT Automation GmbH

IXXAT Automation GmbH is a leading supplier of data communication systems for industrial automation and automotive applications. The main technologies in the field of industrial communication systems are solutions based on CAN (CANopen, DeviceNet), Ethernet (ETHERNET Powerlink, EtherNet/IP, Profinet, EtherCAT) as well as TCP/IP with the associated Internet protocols. For automotive applications, IXXAT focuses on solutions based on CAN (diagnosis protocols, SAE J1939), FlexRay and LIN. The product range comprises interface boards, test systems, analyzing tools and protocol software.

As of December 2009, IXXAT provides work for 80 employees, predominantly engineers skilled in electronic engineering and computer science and has a certified quality assurance management according to ISO9001. Our customers are well-known companies all over the world from the industrial and automotive sectors.

IXXAT supports its customers completely in the establishment and application of communication systems based on CAN and TCP/IP, from seminars and consulting, design of system solutions, development and implementation of hardware and software to the supply of a complete product line. Furthermore IXXAT is able to perform safety relevant hardware and software development according to IEC61508.

For more information, please ask for our company brochure and product catalog.

More from Agricultural & Farming Products