Data Logger Kit is used for monitoring photovoltaic cells.
Press Release Summary: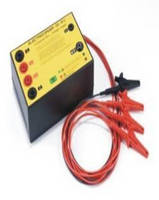 Designed to monitor one or two DC voltage channels from 1-60 Vdc, PV-3 Solar Data Logger Kit includes datalogger, 2 fused voltage input leads, DC current probe, pyranometer, USB lead, 12 Vdc PSU, software, and carrying case. Users can monitor PV cell output and examine voltage and current curves during day. Solar datalogger also records solar irradiance from 0-1,500 W/m-2 and PV systems with output of up to 300 Vdc and up to 100 A current.
---
Original Press Release:

CAS DataLoggers Introduces Solar DC Power Data Logger Kit



The Economical, Green Solution for Alternative Energy Applications

CHESTERLAND OH-Across the alternative energy industry, companies are exploring all manner of profitable applications, including solar panel farms, streetlight LEDs, windmills, and more. No matter the project, this emerging market has an immediate need for low-cost DC power monitoring, and now CAS DataLoggers and bestselling manufacturer Electrocorder are supplying businesses with the ideal solution: the new PV-3 Solar Data Logger Kit. The new kit has everything you need for monitoring photovoltaic cells including the datalogger itself, 2 fused voltage input leads, a DC current probe, a pyranometer, USB lead, 12Vdc PSU, FREE software and a convenient carrying case.

This green solution is specifically designed to accurately monitor one or two DC voltage channels from 1V to 60Vdc, allowing users to monitor PV (photovoltaic) cell output and examine voltage and current curves during the day. The new solar datalogger also records solar irradiance from 0-1500W/m-2 and PV systems with an output of up to 300V Vdc and up to 100A current. The logger is IP65 rated for outdoor and indoor use. When recording, the data logger will store the average voltage (and current if applied) over the period chosen (from 1 sec to 60 min), and will also record VAvg, VMax & VMin on 2 channels. The voltage levels are stored with dates and times. With the back-up battery, the Electrocorder can continue to record for 4 weeks. An external 12Vdc PSU input is available to allow for prolonged logging without batteries.

Setting up the solar datalogger is easy, suitable for semi-technical staff. Using the included Windows software, the location's details are input to the unit's memory and stored. Data is stored in the DC power logger's non-volatile memory with a capacity of 32,000 TRMS voltage values per channel (10 bit), providing continuous recording for extended periods.

This DC power datalogger uses a constant sampling technique, unlike the single reading of competitors which take a single sample but then go back to sleep, missing nearly all the important data. In contrast, the new Electrocorder kit constantly samples every channel 16 times per cycle. At the end of each averaging period, 3 quantities are saved for each channel, the TRMS average, the Max, which is the highest cycle value during the period, and the Min, the lowest cycle value. This means that it will record all the peaks and velleys which are one cycle or longer.

Additionally, user-friendly software is provided FREE along with the kit. Stored data is uploaded to a PC via the supplied USB cable. Using the software, the recorded voltage levels, dates and times can be viewed in both tabular and graphical form, exported to a spreadsheet, or saved to file. Users can also print out graphs showing the recorded levels and the allowable tolerance bands.

For more information on the Electrocorder PV-3 Solar Data Logger Kit, other Electrocorder voltage and current loggers, or to find the ideal solution for your application-specific needs, contact a CAS Data Logger Applications Specialist at (800) 956-4437 or visit the website at www.DataLoggerInc.com.

More from Software