Data Converters suit portable industrial applications.
Press Release Summary: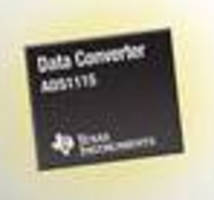 Supplied in 2.0 x 1.5 x 0.4 mm QFN package, ADS1115 series provides product options for scalable integration to reduce component count and simplify design. These 16-bit ADCs, which consume 150 µA (typ) supply current and operate down to 2 V, perform conversions at programmable data rates up to 860 S/sec. Model ADS1115 incorporates oscillator, low-drift reference, programmable gain amplifier, programmable comparator, and 4-channel input multiplexer.
---
Original Press Release:

Texas Instruments Delivers Industry's Smallest 16-bit ADC - 70 Percent Smaller than Nearest Competition - for Portable Industrial and Consumer Applications



Family of data converters reduces overall system space and component count with scalable selection of on-chip integration

DALLAS (August 17, 2009) - Texas Instruments Incorporated (TI) (NYSE: TXN) today introduced a family of 16-bit analog-to-digital converters (ADCs) packaged in a leadless QFN measuring 2.0 x 1.5 x 0.4 mm - 70 percent smaller than the nearest competition. In addition to significant system space savings, the ADS1115 family provides product options for scalable integration to reduce component count and simplify design. This family supports battery monitoring, portable instrumentation, industrial process control, smart transmitters, medical instrumentation and other industrial and consumer systems. For more product information, see http://www.ti.com/ads1115-pr.

Designed for precision, power efficiency and ease of implementation, the ADS1115 family performs conversions at programmable data rates up to 860 samples per second (SPS), consuming just 150 µA (typical) of supply current and operating down to 2 V. The ADS1115 is the most highly integrated member of the new family, incorporating an oscillator, low-drift reference, programmable gain amplifier, comparator and four-channel input multiplexer into a tiny package. This family also includes 12-bit versions for increased flexibility.

"Analog customers require ever higher functionality and performance without sacrificing system size and power in order to take their products to the next level," said Art George, senior vice president of TI's High-Performance Analog business unit. "By reducing size by 70 percent and delivering a complete family of integration and resolution options, the ADS1115 will help designers achieve a smaller system footprint, lower power, higher performance and easy design implementation."

Key features and benefits

Ultra-tiny, leadless QFN (RUG) package (2.0 x 1.5 x 0.4 mm) for unmatched system space savings

Complete family with product options for scalable selection of on-chip integration reduces component count and simplifies design

14x faster sampling rate supports demanding measurement requirements

Integrated programmable comparator simplifies system monitoring

Performance upgrade for embedded ADCs

Customers can speed time-to-market with compatible TI devices, including amplifiers (OPA333, INA333), references (REF33xx), temperature sensors (TMP102) digital isolators (ISO721), digital-to-analog converters (DAC7731, DAC856x) and ultra-low-power microcontrollers (MSP430).

Availability and pricing
The ADS1115, ADS1114 and ADS1113 are available now from TI and its authorized distributors. Pricing for the ADS1115 starts at $2.25 in quantities of 1,000 units. The ADS1114 starts at $2.00 and the ADS1113 starts at $1.85.

Find out more about the ADS1115 family and TI's data converter portfolio at the links below:

Order samples and evaluation modules: http://www.ti.com/ads1115-pr

Quickly search TI's entire data converter portfolio or download the latest selection guide: http://www.ti.com/dataconverters-pr

Ask questions and share knowledge on TI's E2E online community: http://www.ti.com/e2e-pr

More from Machinery & Machining Tools