Data Collection Terminals are programmed in Java.
Press Release Summary: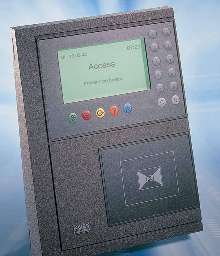 B-Net 9540 and B-Net 9360 provide time and attendance, shop floor data collection, labor reporting, and project time recording. They store over 10,000 master records and 50,000-plus bookings. Multi-tasking operating system ensures terminals are always ready for data entry, even during data transfer to application. Terminals integrate into LANs, WANs, Intranets, Extranets, and Internet for data passing, program updates, or maintenance.
---
Original Press Release:
New Kaba Benzing Time & Attendance/Labor Reporting Terminals Provide Enhanced Shop Floor Performance

Very High Performance/Moderately Priced Production Data Collection Terminals

B-Net 9540 for Open Systems; B-Net 9360 for SAP(r) HCM(r)

MIAMI LAKES, FLA. - December 17, 2002 - Kaba Benzing, a subsidiary of $690 million Kaba Holding AG and worldwide leader in time and labor management systems, today announced two new terminals that set new standards for time and attendance, shop floor data collection, labor reporting and project time recording. The terminals, programmed in Java and interfacing with Ethernet-based communications systems, provide increased operational flexibilities previously available only on more costly units. The new B-Net 9540, used in conjunction with the Kaba Benzing's AutoTime(r) time and labor management software, and the B-Net 9360, used with Kaba Benzing's B-COMM communications software that interfaces with SAP's HCM Time Management module, are created for companies that have data collection requirements on the shop floor. Dialogs can be designed for specific tasks, allowing data collection processes to be adapted to specific enterprise needs. On the terminals' graphic displays, screen masks are dynamically generated by the application and displayed for each requested entry. No fixed layouts are required. Employees can also make inquiries regarding overtime and other employee and job issues. "With these terminals, companies can implement very high performance time and attendance and labor reporting collection at a moderate price," explains Michael Register, Kaba-Benzing vice president of business development and marketing. "To make data collection easy on their employees, they can produce myriads of screens with as many prompt sequences as desired. To keep ownership costs low, the B-Net 9540 provides an open architecture, allowing it to interface with leading hardware and software systems, including our popular AutoTime time and attendance/labor collection system, while the B-Net 9360 is specifically designed to work with SAP R/3 and Enterprise." The terminals store over 10,000 master records and 50,000-plus bookings. A multi-tasking operating system ensures that the terminals are always ready for data entry, even during a data transfer to the application. Displays present high impact graphics without the cost of expensive VGA screens. A multi-lingual interface provides a range of languages. Programming user interaction is easily accomplished with soft ATM-style keys. The terminals integrate into all modern networks, including LANs, WANs, Intranets, Extranets and the Internet for data passing, program updates or maintenance at any time. They also work in offline mode. Besides manual data entry via easily identified icons and buttons, the new terminals read a variety of keyless data entry credentials, including HID and LEGIC proximity, Mifare, Hitag, magnetic stripe, inductive insertion, and barcode swipe and CCD touch cards. The units feature 15 programmable function keys, five keys for basic transactions such as clocking in or out, and numeric keys for entering individual data and PINs. The B-Net 9540 and B-Net 9360 terminals are backward compatible with other Kaba Benzing terminals and systems. They are available immediately. About Kaba Benzing Located in Miami Lakes, Fla., Kaba Benzing is a subsidiary of $690 million Kaba Holding AG and a worldwide leader in time and labor management systems. From touch screen access and shop floor terminals to complex labor costing algorithms and reporting for SAP R/3 and other leading enterprise systems, Kaba Benzing offers an array of time and attendance and production data collection solutions. Kaba Benzing can be contacted in North America at 305-819-4000; website is www.kaba-benzing-usa.com. In Europe and Asia, website address is www.kaba-benzing.com.

For more information...

Michael Register

KABA BENZING

305-819-4000, x248

mregister@kbm.kaba.com

Tom Brigham

BRIGHAM SCULLY

818-716-9021

tbrigham@brighamscully.com
More from Electrical Equipment & Systems