Data Collection Computer offers wireless Ethernet.
Press Release Summary: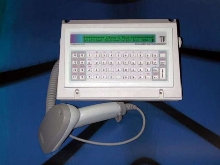 LANpoint®-PLUS Computer has NEMA 12, IP54, rated case that resists water and dust, allowing installation in harsh conditions. Featuring Intel® XScale(TM) processor, onboard non-volatile storage expandable to 500 Mb, and no moving parts, unit provides real-time data collection. Computer runs embedded Windows CE.NET operating system with remote network management provided by WebDevice.
---
Original Press Release:

LANpoint PLUS - NEW Windows CE.NET Stationary Data Collection Computers


August 16, 2004, Tucson, Arizona. Intelligent Instrumentation, a Texas Instruments company, announces the release of their new stationary LANpoint®-PLUS data collection computers. These rugged, compact, Ethernet/802.11b wireless AutoID computers provide real-time data collection that enhances productivity in demanding manufacturing and supply chain applications such as AutoID to ERP/WMS/MES systems, Work-in-Process, Inventory Control, Shipping and Receiving, Production and Labor Reporting, and Time and Attendance. Their compact and rugged NEMA 12 (IP54) rated case design is water and dust resistant allowing for installation in environmentally harsh conditions. The LANpoint PLUS computers run Microsoft's embedded Windows CE.NET operating system, are powered by an Intel® XScale(TM) processor, have onboard non-volatile storage expandable to 500 MB, and include the industrial features, connectivity and scalability demanded by frontline users and IT professionals alike. Web-enabled system administration tools, a wide range of software programmability, and a full selection of installation, mounting and AutoID add-on accessories and options make for unparalleled ease of implementation and system management to meet any data collection and communications need now or in the future.

Microsoft's embedded Windows CE.NET (Windows CE 4.2) provides a stable and flexible operating system for data collection terminals, programmable automation controllers and portable enterprise devices. Windows CE.NET features the familiar Windows WIN32 API environment allowing developers the convenience of using their existing desktop development skills with Microsoft's Visual Studio.NET development tools for creating custom managed-code solutions in either Visual Basic.NET, Visual C#.NET and eMbedded Visual C++. Standard networking and utility software includes TCP/IP and SNMP. Remote network management is provided by WebDevice, Intelligent Instrumentation's Web-server application that comes loaded on each LANpoint PLUS. In addition, all popular terminal emulation interfaces are available, V VT, HP, IBM5250, and IBM3270.

LANpoint PLUS has no moving parts like CPU fans or hard drives that can fail in industrial conditions. Standard features include a 2 line x 40 character backlit LCD display, large keys, small installation footprint, and three RS-232 ports that can be used for standard serial I/O such as barcode scanners, scales, and calipers, and as outputs to printers. The PS/2 connector allows use of wedge readers as well as external keyboards. There is even the thoughtful addition of a speaker output for connection to external speakers and alarms and a 3.3V, 5V and 12V power connector for 2D laser scanners and other AutoID devices. A full line of accessories and options is available, from AutoID devices to battery backup packs and wiring installation kits. Optional digital I/O provides eight opto-isolated digital inputs and eight digital outputs. Intelligent Instrumentation provides everything necessary to get the LANpoint PLUS terminals installed and running quickly, ensuring a rapid return on investment (ROI).

The Stationary LANpoint PLUS computers will be available for delivery beginning October 1, 2004.

US single unit pricing for the LANpoint PLUS ranges from $ 1549 to $ 1699 depending on internal options.

Volume discounts are available to qualified accounts.

With the LANpoint PLUS introduction, Intelligent Instrumentation now offers three (3) high performance vehicle and fixed mount data collection computers that are based on the Windows CE.NET / Intel XScale platform giving customers more options in selecting the data collection computer that meets their application specific needs and requirements.

Intelligent Instrumentation's FactoryView® is a family of USA designed and manufactured products interfacing the machines, processes, and operations of an enterprise to data management systems. The company manufactures a complete line of industrial, LAN-ready data collection computers, automated time and attendance solutions, and microterminals for data collection and operator interface/control panel applications. Intelligent Instrumentation also manufactures data acquisition, test, measurement and control systems for desktop and portable PCs, including distributed I/O systems for Ethernet and Internet networks. The company has a worldwide network of sales and service offices.

For additional information, contact Intelligent Instrumentation, Inc.; 3000 E. Valencia Road, Suite 100; Tucson, Arizona 85706. In the USA, telephone (800) 685-9911 (Sales and Information) or fax (520) 573-0522. Outside the USA, telephone (520) 573-0887 or fax (520) 573-0522. Visit their web site at: http//lanpoint.com; email: sales@lanpoint.com.

LANpoint®-PLUS LANpoint®CE.NET, LANpoint®CE, LANpoint®, FactoryView® are trademarks of Intelligent Instrumentation®.

All other trademarks are the property of their respective companies.

More from Fluid & Gas Flow Equipment