Data Cables withstand motion of automated machinery.
Press Release Summary: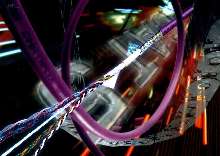 Chainflex® continuous-flex data cables provide low capacitance and controlled impedance for installation in automated networks. Products employ conductor bundling; tight pitch, core, and shield; and abrasion-resistant jackets, enabling them to withstand continuous cycles at tight bending radii. Chainflex CFLG fiber optic and CFLK polymer fiber optic cables offer data and signal transmission and EMI protection.
---
Original Press Release:

igus Chainflex Data Cables are Rugged Enough to Handle the Intense Motion of Automated Machinery While Consistently Delivering Reliable, Smooth Data Transmission


EAST PROVIDENCE, R.I. - April 29, 2004 - Chainflex® continuous-flex data cables from igus® Inc. are rugged enough to handle the intense motion of automated machinery on the factory floor while consistently delivering reliable, smooth data transmission. In today's increasingly automated manufacturing plants, more and more machinery is being controlled by computers and software programs.

Factory automation systems integrate high-speed data-control processes with moving machinery. These systems provide the link from the office to the production floor. Control devices, such as switches, sensors and actuators, installed on plant equipment deliver feedback to the system through industrial network, for more precise control of a product or process.

Such systems require data cables with low capacitance and controlled impedance. A typical cable designed with these attributes is not intended for continuous flexing. Igus offers a complete line of industrial data cables that are specifically designed and tested for installation in automated networks.

Chainflex data cables employ the same design principles as any igus Chainflex cable, including:

o conductor bundling;
o special conductor strand selection;
o tight pitch, core and shield;
o tension core fillers; and
o rugged abrasion resistant jackets.

These properties enable Chainflex cables to withstand continuous cycles at tight bending radii. Standard data cables are not designed for continuous flexing nor are they constructed with high flexing as a requirement. When installed in a flexing application, the shielding quickly fails, resulting in signal loss or attenuation. If unaddressed, these data errors can cost more than the cable itself. Standard data cables are also prone to common conductor failure due to incorrect strand selection and corkscrewing. With igus Chainflex, customers receive the benefits of both high-speed data cables as well the long-service life and flexibility of high-flex cables.

Chainflex cables are ideal for certain industrial networks, such as:

o Chainflex CF14 for Ethernet;
o Chainflex CF11 for Profibus and Interbus;
o Chainflex CF11 and CF211 for Foundation Fieldbus H1, IEC/ISA SP50 Fieldbus and Modbus;
o Chainflex CF13 for DeviceNet; and
o Chainflex CF11LC for CANopen.

"Factory automation is one of the biggest issues in manufacturing today and I think we are going to see rapid changes in implementation and advancements in technology during the next few years," said Carsten Blase, vice president of igus. "Igus prides itself on developing intimate relationships with its customers and we rely on customer feedback for design and product development. With the ever changing demands of this market, this will enable us to position ourselves as a key player in the data cable industry."

Fiber optic cables deliver longer length and higher speeds than other data cables and are not affected by electro magnetic interference (EMI), unlike copper cables. In some cases, it may prove the best choice for factory automation. The Chainflex CFLG fiber optic and CFLK polymer fiber optic cables offer safe, space-saving data and signal transmission and EMI protection in automation applications. Chainflex CFLG, which can easily support transmission over long distances, sustained a series of tests through five million cycles at a bend radius of 8.6 x the outer diameter (o.d.) and the CFLK was tested at a bend radius of 3.6 x o.d. with neither incurring any increase in attenuation or mechanical failure.

Chainflex cables are designed to be used in Energy Chains® cable carriers that house and protect moving cables. By installing a complete Energy Chain System® on their automated machinery, plant managers can further ensure the performance and longevity of their cables and overall application.

About igus
Igus Inc., founded in 1985 and based in East Providence, R.I., develops and manufactures industry-leading plastic cable carriers, continuous-flex cables, plastic bearings and linear guide systems. With more than 28,000 products available from stock, the company meets the motion control and machinery component needs of customers worldwide. Product lines include Energy Chain Systems to protect and house moving cables, Chainflex continuous-flex cables, iglide® self-lubricating, oil-free, plastic bearings, DryLin® linear guide systems and igubal® spherical bearings. For more information, contact igus at (800) 521-2747 or visit www.igus.com.

Chainflex, igus, Energy Chain, Energy Chain Sysiems, iglide, DryLin and igubal are registered trademarks of igus Inc. All other company names and products are trademarks or registered trademarks of their respective companies.

More from Packaging Products & Equipment