Data Acquisition System provides road load testing.
Press Release Summary: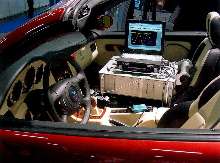 Data Acquisition System combines wheel force sensing with software, rack-mounted hardware, and notebook computer. It includes on-board signal conditioning, shunt calibration, angular position resolution, and signal transmission. Unified system features rapid calibration and alignment of wheel sensor with vehicle data acqusition system. Wireless telemetry data and power transfer function is friction-free with absolute data security.
---
Original Press Release:

Road Load Testing, Data Acquistion System is "Totally Unified;" Combines Wheel Force Sensing With Specialized Software, Rack-Mounted Hardware And Notebook Computer


Farmington Hills, Mich., March 3 - Road load data is one of the best sources of fundamental information necessary for analysis of the design, reliability and structural integrity of vehicle wheel components.

A new system, a design development of RS Technologies and its partner company, CAESAR DataSystems, provides a totally unified approach to wheel force sensing and road load data acquisition.

Designed for comprehensive measurement of road load force, torque, or both on an automotive, light truck or heavy truck wheel, the new unified approach combines high accuracy measurement, recording and data analysis in a modular package that includes full integration of sensor, electronics and software.

The RS Technologies-CAESAR approach integrates the design of its wheel force transducer (WFT) with the hardware and software that supports Computer Aided Data Acquisition (CADA).

This includes on-board signal conditioning, shunt calibration, angular position resolution and signal transmission. The result is a unified system that features rapid, accurate calibration and alignment of the wheel sensor with the vehicle data acquisition system.

The "totally unified" system results from two major developments, one from each partner company:
o The WFT from RS Technologies is a six-component design that features an advanced, proprietary, durable, one-piece sensor section that is extremely rugged yet provides highly sensitive readings.
o CAESAR DataSystems' new Transducer Interface Unit (TIU) is fully road load/add one integrated into the data acquisition system and provides for dynamic force, torque and position communication between the wheel sensor and the CADA system.

The system's wireless telemetry data and power transfer function is friction-free with absolute data security. It requires a brief mounting and setup time: typically less than 10 minutes per wheel.

The road load wheel and torque wheel are available in a wide range of sizes and capacities to fit test requirements for subcompacts, standard passenger cars, limousines, light trucks, SUVs and heavy trucks.

CAESAR DataSystems was founded in Munich in 1986 by a group of four engineers experienced in the field of data acquisition and analysis technology. The company today is a leading supplier of measurement systems for mobile vehicle testing.

RS Technologies, founded in 1991, is a supplier of a wide range of precision transducers, threaded fastener technology and automated product testing systlems for the measurement and verification of torque.

Its founder and president, Ralph Shoberg, developed the first rotary torque transducer electronic package in 1968.

Contact: Doug Drummond/NES
Dave Miller/RST
Dan Heikkinen/CAESAR
RS Technologies/CAESAR
24350 Indoplex Circle
Farmington Hills, Ml 48335
248-888-8260
248-888-8266 fax
www.rstechltd.com
caesar.us

More from Controls & Controllers