Data Acquisition System helps conserve power and space.
Press Release Summary: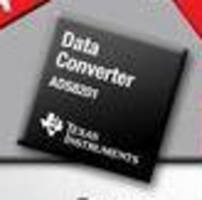 Supplied in QFN-16 package, ADS8201 simplifies compact, power-sensitive, and multi-sensor-based portable designs. Complete on-chip system, rated to 100 kSPS, draws 600 µA supply current at 2.2 V and offers system processing capability by integrating complete analog signal chain of 4 chips into one. In addition to 8-deep FIFO that permits flexible data reading, IC offers single-ended and differential-ended inputs that support various interface options.
---
Original Press Release:

TI's New Data Acquisition System Delivers up to 75 Percent Power, Space and Cost Savings



Highly flexible system simplifies compact, power-sensitive and multi-sensor-based portable designs

DALLAS -- Texas Instruments Incorporated (TI) (NYSE: TXN) today introduced the 100-kSPS ADS8201, a complete on-chip data acquisition system (DAS) that draws only 600 uA of supply current at 2.2 V, resulting in up to 75 percent power savings over discrete implementations. The ADS8201 offers customers system-processing capability by integrating a complete analog signal chain of four chips into one. This level of integration provides greater design flexibility and reduces space, cost, power consumption and design time in portable communications and medical applications, as well as transducer interfaces, and GPS-based and sensor data acquisition systems. For product details see: www.ti.com/ads8201-pr.

Key features and benefits:

The ADS8201 integrates a 12-bit, capacitor-based, successive approximate register (SAR) analog-to-digital converter (ADC); a high-performance continuous-time programmable gain amplifier (PGA); and a fully automatic scan, 8-to-1 multiplexer (mux) with breakout to allow for system flexibility.

High-impedance PGA and channel mapping allow for direct interface with a wide variety of sensors and for user-configurable gain per channel.

A high-speed, wide-voltage serial interface simplifies serial port design.

Single-ended and differential-ended inputs allow a wide variety of interface options.

An eight-deep first in first out (FIFO) permits flexible data reading while reducing overhead on the microprocessor.

Maximize the ADS8201's performance for portable communications, industrial and medical applications using TI's low-noise, high-precision OPA376, OPA364 and OPA340, operational amplifiers, and the low-power REF3020 voltage reference.

Availability and pricing
The ADS8201 is available now in a QFN-16 package. Pricing starts at $2.75 in 1,000-unit quantities. Customers can simplify the tasks of collecting and analyzing ADC data and ease evaluation with the ADCPro modular software system.

Find out more about TI's precision data converter portfolio by visiting the links below:

Order ADS8201 evaluation modules and samples: www.ti.com/ads8201-pr

Quickly search TI's entire data converter portfolio or download the latest selection guide: www.ti.com/dataconverters-pr.

Ask questions and share knowledge in the data precision converter forum in TI's E2E online community: www.ti.com/precisiondataconverter-pr.

About Texas Instruments
Texas Instruments (NYSE: TXN) helps customers solve problems and develop new electronics that make the world smarter, healthier, safer, greener and more fun. A global semiconductor company, TI innovates through manufacturing, design and sales operations in more than 30 countries. For more information, go to www.ti.com

Trademarks
All registered trademarks and other trademarks belong to their respective owners.

More from Communication Systems & Equipment