Data Acquisition Subsystem supports European applications.
Press Release Summary: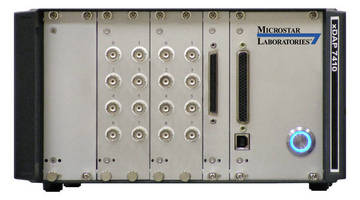 Suitable for worldwide applications, LVD-tested and fully CE-compliant xDAP 7410 DAQ subsystem is compatible with North American and European power standards without any switching or reconfiguration. Each unit includes 8 parallel, 16-bit ADC channels, clocked simultaneously and running at configurable rates up to one million samples/sec. Additional features include local buffer memory, embedded 2.0 GHz Celeron CPU, and embedded DAPL RTOS.
---
Original Press Release:

New xDAP 7410 Data Acquisition Subsystem, Supports European Applications



Bellevue, WA - Microstar Laboratories, Inc. has announced the release of the xDAP 7410 data acquisition subsystem. xDAP 7410 is LVD tested and fully CE compliant, making it suitable for worldwide applications, including in the European Union. It is also compatible with both North American and European power standards, requiring no switching or reconfiguration. xDAP 7410 is the logical successor to the high-performance xDAP 7400 system and provides high-rate, high-quality multi-channel data capture for PC-based data acquisition applications. This model expands the range of applications and provides new options, while starting at the same baseline cost.

High-Performance Simultaneous Sampling
Like xDAP 7400, each xDAP 7410 includes eight parallel 16-bit analog-to-digital converter channels, clocked simultaneously and running at configurable rates of up to one million samples per second. For host applications that are not able to keep pace with a sustained 16 million bytes per second of data transfers across the USB interface, there is enough local buffer memory to record a full minute of activity without any concurrent transfers.

xDAP 7410 features an embedded 2.0 GHz Celeron processor that manages all of the real-time aspects of acquisition hardware management and data buffering. All of this, plus higher level data pre-processing and transfer management, is controlled by the embedded DAPL real-time operating system that runs on every Data Acquisition Processor (DAP) system. On the host side, xDAP 7410 uses the same driver system called the "channel architecture" for all of the DAP products - this is provided at no extra cost.

Added Features
xDAP 7410 remains compatible with existing applications and DAPL 3000 configuration scripts. The onboard intelligence that runs within the embedded DAPL 3000 system frees you from the real-time delays and uncertainties present in your host operating systems. You operate the xDAP 7410 at your local workstation, via a laptop, or over a network connection. The DAPIO programming interface allows you to manage configurations and data transfers from your favorite programming languages and environments, such as DAPstudio, C++, Visual Basic, or LabVIEW. DAPstudio, from Microstar Laboratories, assists you in building downloaded configuration scripts, providing a means for independently validating and testing the embedded side of your applications - in some cases, providing everything you need for a complete measurement application. The DAPIO interface can support Windows 7 64-bit applications either in 32-bit compatibility or 64-bit native modes.

The eight input converter channels can be distributed to multiple sets of input pins. Distributing the conversion channels to a maximum number of signal lines, you can cover up to 32 channels with rate 250,000 samples per second on each. Using optional BNC connector panels, you gain the convenience of quick-connect signal cables.

With the new and unique capability of configuring sampling activity at multiple rates, you can commit some of your converter devices to a low sampling rate and others to a high sampling rate. This eliminates some difficulties of observing processes at disparate rates - for example, a watchdog timer activity operates on a time scale of milliseconds, while critical data are simultaneously processed on a time scale of microseconds.

Conclusion and Next Step
While offering incremental functional changes relative to its predecessor, the CE qualification of xDAP 7410, its enhanced processing, and its new I/O panel options will open the xDAP family to new application possibilities. The new product remains compatible with the DAPIO programming API, including support for operating systems from Windows XP through Windows 7, 64-bit edition. It also remains compatible with DAPstudio software from Microstar Laboratories, for independently configuring the embedded processing. The DAPtools Basic software package, including a demo version of the DAPstudio software, is provided with every system at no charge. Visit the Microstar Web site at www.mstarlabs.com/software/ to download an evaluation copy.

Full technical specifications for xDAP 7410 are listed on the Web site. xDAP 7410 costs US$5995 and is available now. Call the company toll-free from the US or Canada at 888 MSTARLABS (888 678-2752). Visit us on the Web at www.mstarlabs.com. Or contact your local distributor.

Microstar Laboratories, Inc. claims Microstar Laboratories, Data Acquisition Processor, DAP, xDAP, xDAP 7410, xDAP 7400, DAPL, DAPIO, DAPtools, and DAPstudio as trademarks. Microsoft Corporation has registered Microsoft, Windows, Windows XP, Windows 7, and Visual Basic as trademarks. National Instruments Corporation has registered LabVIEW as a trademark. Intel Corporation has registered Intel and Celeron as trademarks. Other organizations may claim - or may have registered - as trademarks other trade names, logos, and service marks that appear in this document but not in the list above.

Microstar Laboratories makes it a practice to use an appropriate symbol at the first occurrence of a trademark or registered trademark name in a document, or to include trademark statements like this with the document.

More from Software