Data Acquisition Boards offer GPS time stamping.
Press Release Summary: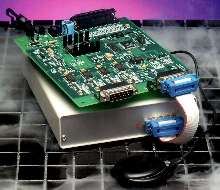 Model PAR4CH consists of one 4-channel, 24 bit, A/D system that employs converter per channel architecture. Dedicated A/D chip for each channel eliminates crosstalk and settling problems. Able to connect to PC parallel port, unit includes 2 MB memory buffer and offers continuous, user-programmable acquisition rates from 0.1-5,000 Hz. Timing module PARGPS connects to PAR4CH and PC, providing 10 µsec accuracy time stamping along with other GPS parameters.
---
Original Press Release:

Symmetric Research Integrates Low Cost Data Acquisition with GPS Time Stamping


SEATTLE, WA - Symmetric Research introduces a new product line of low cost Data Acquisition boards combining great multi-channel 24 bit A/D performance with accurate GPS time stamping of acquired analog data.

The two core products are the PAR4CH and PARGPS modules.

The PAR4CH is a four channel 24 bit A/D system with a converter per channel architecture. Crosstalk and settling problems commonly associated with multiplexed systems are eliminated with a dedicated A/D chip for each channel. Connecting to a standard PC parallel port, the PAR4CH also includes an incredibly large 2MB memory buffer to insure no data loss during long PC or network latencies. Continuous acquisition rates are user programmable from 0.1 Hz to 5000Hz and stored on a hard disk.

For users needing accurate time stamping of acquired data, Symmetric introduced the PARGPS timing module. This module easily connects to the PAR4CH and PC, providing 10 microsecond accuracy time stamping along with other GPS parameters such as location and satellite count. They are recorded in real time along with the 24 bit analog data. The PARGPS connects to the digital IO connector on the PAR4CH, preserving all four 24 bit channels for analog data acquisition.

The PAR4CH and PARGPS are offered in rugged compact vinyl covered steel desktop enclosures suitable for general applications with desktop and laptop PCs. Bare boards are also available for users wishing to integrate the systems into PC104 stacks and other single board computer applications.

Complimenting the PAR4CH and PARGPS, Symmetric also offers the PAR1CH and PAR8CH 24 bit A/D systems, offering users a choice of one or eight channels. Each is plug compatible with the PAR4CH, for easy transition as requirements change. The PAR1CH is affordably priced for schools and users wanting to get familiar with precision continuous data acquisition.

Included with each system is extensive software support featuring both GUI and console mode applications for immediately acquiring data. Source code and user libraries are also included for custom development. The supplied software drivers are available for Windows 2000/XP and Linux, and use true ring 0 kernel mode drivers for top performance.

At $550 for the PAR4CH and $400 for the PARGPS, these products offer complete ready to go state-of-the-art technology at an excellent value. The PAR1CH and PAR8CH are available at $150 and $950 respectively. For additional information go to www.symres.com.

Related