Dart Impact Testers feature pneumatic-assisted clamping.
Press Release Summary: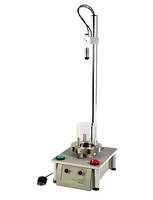 DX-8300 Series Dart Impact Testers can help speed up production and additives settings. Units are suitable for inspection of incoming film and sheet products. Embedded with dart drop software, products meet ASTM D1709 methods A and B standard test method of plastic film. Testers operate with pneumatic-assist for dart release and film/sheet sample clamping. DX-8300 Series offers PC connectivity.
---
Original Press Release:
Introducing the New DX-8300 Series Dart Drop Impact Testers
Electronic Full-Featured Dart Drop Impact Testers for Film and Sheet
The Series DX-8300 Dart Impact Tester is a proven tool for more closely controlling nominal and peak strength characteristics to speed your:
Production and additives settings and adjustments
Research and development of new film and sheet products
Inspection of incoming film and sheet products
In-process checks to ensure on-spec product for converting operations
Features:
Meets Test Method for Free Falling Dart Impact Testing of Plastic Film
Full Electronic Operation - Provides Advanced Safety Features plus Software and PC Connectivity
Industry-Leading Software - Automate your Tester with the DX-8300 Dart Drop Software; allows Pass-Fail testing plus Staircase testing to automate ASTM D1709 testing requirements
Easy Pneumatic-Assisted Operation - Operates with pneumatic-assist for dart release and film/sheet sample clamping. Pneumatic-assisted clamping and dart release is useful for higher clamping forces without the requirement for large, inefficient electromagnetic releases
Expandable; Flexible Operation for Method A & B Testing - Portable and expandable with models for Method A testing, or Method A & B combination testing. Extensions and custom dart stems & weights available for testing to your in-house developed requirements
Affordable - Best of all, the series DX-8300 is economically priced. Comes complete with everything needed to run tests
Item Nos. PT-605141, PT-605151
Contact:
Julia LaShure
Marketing Department
Sherri B. Thompson
Advt/Mktg Manager
Paul N. Gardner Company, Inc.
316 NE 1st Street,
Pompano Beach, FL 33060
Phone: (954) 946-9454
Email: jlashure@gardco.com
More from Construction Equipment and Supplies