DAQ Boards are offered in various versions.
Press Release Summary: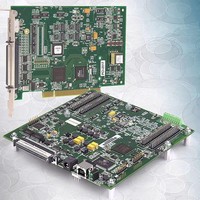 Featuring 16-bit/1 MHz A/D converter, PCI-2500 and USB-2500 series DAQ boards scan any sequence of channels at 1 µs per channel and offer 4 counter/quadrature inputs, 24 digital I/O, and 2 timer outputs. Model PCI-2511 has fixed analog input range of ±10 V, while other models provide 7 programmable input ranges from ±100 mV to ±10 V. Additionally, 4 analog inputs on USB products can be used as differential thermocouple inputs.
---
Original Press Release:

Introducing Eight New Multifunction DAQ Boards! The PCI-2500 Series and the USB-2500 Series



NORTON, Mass.-October 3, 2006 - Measurement Computing Corporation, the market leader in low-cost data acquisition, today introduced eight new multifunction DAQ boards. Both the PCI-2500 series and the USB-2500 series boards provide true multifunction high-speed performance with analog inputs, waveform capable analog outputs, 24 high-speed digital I/O, four counter/quadrature inputs, and two timer outputs.

The series comprises four USB devices and four PCI boards. Feature summary:

Product: PCI-2511
Analog Inputs: 16SE
Ranges: 1
Digital I/O: 24
Analog Outputs: -
Counters (32-bit): 4
Timers (16-bit): 2

Product: PCI-2513
Analog Inputs: 16SE/8DE
Ranges: 7
Digital I/O: 24
Analog Outputs: -
Counters (32-bit): 4
Timers (16-bit): 2

Product: PCI-2515
Analog Inputs: 16SE/8DE
Ranges: 7
Digital I/O: 24
Analog Outputs: 2
Counters (32-bit): 4
Timers (16-bit): 2

Product: PCI-2517
Analog Inputs: 16SE/8DE
Ranges: 7
Digital I/O: 24
Analog Outputs: 2
Counters (32-bit): 4
Timers (16-bit): 2

Product: USB-2523
Analog Inputs: 16SE/8DE
Ranges: 7
Digital I/O: 24
Analog Outputs: -
Counters (32-bit): 4
Timers (16-bit): 2

Product: USB-2527
Analog Inputs: 16SE/8DE
Ranges: 7
Digital I/O: 24
Analog Outputs: 4
Counters (32-bit): 4
Timers (16-bit): 2

Product: USB-2533
Analog Inputs: 64SE/32DE
Ranges: 7
Digital I/O: 24
Analog Outputs: -
Counters (32-bit): 4
Timers (16-bit): 2

Product: USB-2537
Analog Inputs: 64SE/32DE
Ranges: 7
Digital I/O: 24
Analog Outputs: 4
Counters (32-bit): 4
Timers (16-bit): 2

A 16-bit/1-MHz A/D converter on each of the products can scan any sequence of channels at 1 µs per channel. Except for the PCI-2511, which has a fixed analog input range of ±10 volts, the whole product line provides seven programmable input ranges from ±100 millivolts to ±10 volts, full scale. Four of the analog inputs on the USB products can be configured as differential thermocouple inputs.

All eight of the boards in the PCI- and USB-2500 series feature a unique, low-latency control output mode, whereby any input-analog, digital, or counter, can control an output-digital, analog, or timer, based on predefined limits. The outputs are controlled directly from the board and do not require PC intervention, resulting in response times that are deterministic and measured in microseconds, vs. non-deterministic response times measured in milliseconds for PC-based control outputs. For example, a digital output can be programmed to be a logic 1 when an analog input channel is above 5 volts, and a logic zero when below 5 volts. Unlike other products, which require PC software to make decisions, with typical, non-deterministic output rates of 1 to 10 milliseconds, the PCI- and USB-2500 series boards can respond to inputs in as fast as 2 µs-nearly 1,000 times faster.

Bill Kennedy, Measurement Computing's vice president of marketing and sales, said, "This product line represents a tremendous value to our DAQ customers. The 2500 series coupled with our broad range of software offerings provides four new features:
1) synchronous scan support for analog inputs, digital inputs, and counters up to 1 MHz throughput
2) synchronous scan support for analog outputs and digital outputs up to 1 MHz throughput
3) high-speed digital input support up to 12 MHz
4) pattern recognition for the digital I/O.
Our customers will appreciate the new features, added functionality, and of course the low cost that MCC is known for."

Measurement Computing Corporation is the data acquisition market leader in the design and manufacture of low-priced, computer-based, test and measurement hardware and software. Numerous hardware product offerings for analog input, analog output, and digital I/O devices support USB, Ethernet, PCI, ISA, PCMCIA, and PC/104 buses. Serial and GPIB interfaces along with remote dataloggers complete the DAQ and test & measurement offerings. Software solutions for the programmer and non-programmer alike are offered, as well as drivers for popular graphical programming languages such as LabVIEW. The company, founded in 1989, markets its products throughout the world. Visit www.mccdaq.com for more information.

Product Price Status
PCI-2511 $549.00 Available now
PCI-2513 $649.00 Available now
PCI-2515 $749.00 Available now
PCI-2517 $849.00 Available now
USB-2523 $799.00 Shipping in November
USB-2527 $999.00 Shipping in November
USB-2533 $999.00 Shipping in November
USB-2537 $1199.00 Shipping in November

Contact:Dan Mandill
Marketing Coordinator
508-946-5100 x219
dan.mandill@mccdaq.com

More from Software