Danfoss Wheel Loader Solutions Uplift Machine and Operator Performance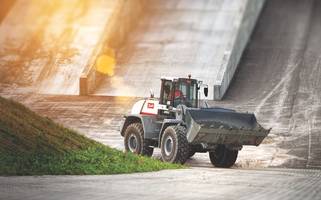 Collaboration at Application Development Centers optimize wheel loader solution development and improve time to market 
Danfoss Power Solutions is proud to offer differentiating wheel loader solutions and subsystems, which are proven at our global Application Development Centers (ADCs). The wheel loader subsystem solutions are developed and tested under real-world conditions at our ADCs and are proven to increase productivity and uptime while lowering total cost of ownership by improving efficiency. Our team of experts is in place to assist OEMs introducing their wheel loaders to market quickly.
Wheel loader OEMs are looking for ways to optimize profitability and increase market share through differentiation in today's competitive market. They aim to shorten time to market and optimize engineering efforts — all while meeting rigorous safety standards. Meeting these goals is made easier when working in collaboration with wheel loader engineers at Danfoss.
"Driven to be the best possible partner to wheel loader manufacturers, Danfoss offers products and complete solutions designed to address the needs of the wheel loader application and duty cycles," said Philipp Hermann, Market Development Manager, Construction Segment. "Our customers work in close cooperation with our wheel loader system experts and utilize the Danfoss Application Development Centers to arrive at the ideal solution for their application."
Performance. Uplifted.
Wheel loader OEMs are faced with considerable options and strategies to enhance their machines. Working with Danfoss and its team of experts, OEMs can optimally develop a complete wheel loader solution that addresses their unique challenges. Our portfolio of subsystems and products encompasses all aspects of machine performance — such as steering systems, telematics, working systems, transmissions and thermal management.
In one example, optimized joystick steering solutions have shown reduction in operator muscle activity by 65 percent combined with an increase machine productivity by six percent compared to conventional steering. In yet another, Danfoss' refined driving modes can reduce fuel consumption by up to 15 percent for hydrostatic transmissions, while maintaining productivity levels and improving operator comfort.
The state of the art wheel loader technology, designed and delivered by Danfoss, enables OEMs to differentiate more quickly and attain market share. One of these differentiators can include electric or hybrid power solutions. As a leader in the mobile electrification trend, Danfoss assists integration of electric or hybrid drivelines in wheel loaders. This allows better power distribution management to the transmission and thermal management system, while also saving fuel and reducing emissions.
Built to work with you
"We're constantly exploring and integrating emerging wheel loader technologies, such as machine autonomy and electric driveline options, to ensure our customers can benefit from the most advanced solutions in the industry," said Hermann. "Danfoss is proud to partner with OEMs to provide performance-based wheel loader solutions to differentiate them in the marketplace."
Visit danfoss.com for more information on optimized wheel loader solutions.
For media information and photos:
Americas and Europe:
Nikoline Herzog
Danfoss Power Solutions Nordborg, Denmark
Phone: +45 7488 395
Asia-Pacific:
Kentaro Ide
Danfoss Power Solutions Osaka, Japan
Phone: +81 6 6395 6066
Related links: 
https://www.danfoss.com/en/about-danfoss/our-businesses/power-solutions/
Danfoss engineers technologies that enable the world of tomorrow to do more with less. We meet the growing need for infrastructure, food supply, energy efficiency and climate-friendly solutions. Our products and services are used in areas such as refrigeration, air conditioning, heating, motor control and mobile machinery. We are also active in the field of renewable energy as well as district heating infrastructure for cities and urban communities. Our innovative engineering dates back to 1933, and today Danfoss is a world leader, employing 24,000 employees and serving customers in more than 100 countries. We are still privately held by the founding family. Read more about us at www.danfoss.com.
Danfoss Power Solutions (US) Company
2800 East 13th Street
Ames, IA 50010 US
Telephone: +1 515 239 6000 Fax: +1 515 239 6318 powersolutions.danfoss.com
More from Agricultural & Farming Products