Danfoss CO2 Adaptive Liquid Management Solution Named Product of The Year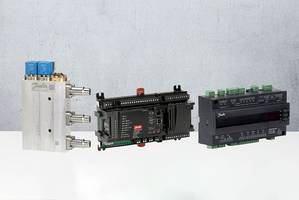 The Danfoss CO2 Adaptive Liquid Management solution, which fully utilizes all of an evaporator's surface area and improves the energy efficiency of transcritical CO2 refrigeration systems by as much as a 10 percent, received top honors in the 2020 AHR Expo Innovation Awards program.
February 12, 2020 - A panel of third-party ASHRAE member judges selected the annual Product of the Year from the year's 10 AHR Expo Innovation Award winners. The Danfoss CO2 Adaptive Liquid Management, or CALM, solution had previously been named the 2020 AHR Expo Innovation Award winner in the Cooling category.
CALM is a complete solution and enables great energy savings by combining ground-breaking Danfoss innovations, including its Adaptive Liquid Control (ALC) case controller algorithm and Liquid Ejector, with Danfoss ADAP-KOOL® system controls.
The Liquid Ejector uses high pressure CO2 flow from the gas cooler to efficiently remove liquid from the suction side. The ALC case controller algorithm then safely injects refrigerant into the evaporator while controlling superheat at close to zero, leading to increased efficiency of the evaporator which in turn allows an increase in evaporation temperature. Together, these components optimize evaporator performance and allow users to increase suction pressure, which reduces the compression ratio leading to a decrease in energy consumption, and divert part of the suction load around the compressors, leading to decreased usage of the compressors.
Increasing the evaporating temperature increases suction pressure, which in turn reduces both the load on the compressor and energy consumption. In fact, the ALC algorithm can typically achieve energy savings of five percent better than minimum competitive active superheat management systems and 10 percent better than fixed superheat solutions.
"It's truly an honor to have been recognized by the industry for our deep commitment to engineering next-generation solutions that are both energy efficient and environmentally friendly," said Peter Dee, food retail sales director – North America, Danfoss. "The CO2 Adaptive Liquid Management solution represents yet another step toward helping food retailers around the world — no matter the climate zone or store size — make the transition to low-GWP refrigerants while saving energy and costs, maintaining system reliability, and ensuring food safety."
Winners in the AHR Expo Innovation Awards program are selected based on innovative design, creativity, application, value, and market impact. Danfoss has now been recognized more than 30 times over a 17-year history of the Innovation Awards program, including multiple Product of the Year recognitions — most recently in 2018 for the Danfoss Turbocor® TTH/TGH High Lift Compressor. This year's award ceremony was held on February 4 during the 2020 AHR Expo in Orlando, Florida.
Media Contact:
Lisa Tryson
Director, Corporate Communications & PR
Email: LisaTryson@Danfoss.com
Phone: +1 410 513 1142