Applicator / Finishing / Cleaning Brushes
Daimer® Ultra 5000 Steam Cleaner Users to Save Hundreds on Brushes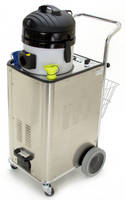 Daimer® will sell auxiliary brushes for the Ultra 5000 line for over $2.00 as compared to competing products being sold for $20.

WOBURN, MA, U.S.A. -- Daimer Industries, Inc.®, a cleaning product supplier to institutions and professionals, has begun selling a line of brushes for its KleenJet® Ultra 5000 steam cleaner machines for a little over $2.00, nearly one eighth as much as competing suppliers charge for comparable products.

"We decided to offer our line of highest quality detail brushes at $2.50 per brush - regardless of the bristle type," noted Matthew Baratta, a pricing spokesperson for Daimer.com. "Some competitors charge as much as $20 for brushes like these. Over the life of a steam cleaner, the brush savings could be enough for new machine."

Multiple Brush Types, One Low Price

It is no secret in the cleaning industry that some suppliers generate impressive sales numbers from selling accessories like brushes.

As a result, Daimer® has decided to offer auxiliary brushes for its Ultra 5000 steam cleaner series for $2.50, regardless of brush composition. Daimer® will sell brushes composed of different bristle materials to match different job requirements. Sensitive nylon bristled brushes are geared toward fragile surfaces. More robust brass bristled brushes are designed for sturdier surfaces. Stainless steel bristled detail brushes offer the most cleaning power for the toughest jobs.

The 3000-watt Ultra 5000CV and 5000CVP steam cleaner machines include 5 liters of boiler capacity and 10 liters of continuous refill capacity. The machines come with oversized detergent and waste chambers of 10 liters and 14 liters, respectively. Both steam cleaner systems incorporate a dynamic vacuum system with dual HEPA and water filtering systems. The 5000CVP also bundles a proprietary-designed, EPA-compliant germ destroying system. This ATIS® sanitizing system resides in the boiler.

The 5000 steam cleaner series produces as much as 120 psi of pressure and 329ºF of heat. Daimer® also provides more than 36 accessories with each unit, including steam-generating drain plungers, steam scrapers, and carpet steam tools. Chewing gum removal add-ons are available at additional cost.

For additional information about Daimer® floor steam cleaners, industrial steam cleaners or steam cleaning equipment, visit www.daimer.com/steam-cleaners/ or call Matthew Baratta at (888) 507-2220. The steam cleaner systems are available to customers in most countries in 50 Hz and 60 Hz configurations. Minimum order quantities may apply.

About Daimer Industries, Inc.®: Daimer®, www.daimer.com, is a major supplier and worldwide exporter of the cleaning industry's leading line of KleenJet® steam cleaners/vapor steam cleaners/steam cleaning equipment; Super Max(TM) commercial and industrial pressure washers, including cold water, hot water, and steam pressure washing machines; XTreme Power® floor cleaners, including carpet cleaners, hard surface cleaners, and floor buffers/scrubbers/burnishers; and the line of Micro-Blasting® Eco-Green® environmentally friendly cleaning products that employ unique technologies and a patented, proprietary chemistry.

More from Packaging Products & Equipment