D-Link Presents New Exo Routers and Extenders with Four Gigabit Ethernet Ports
Press Release Summary: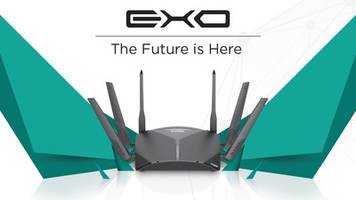 The Mesh-Enabled Exo Routers and Extender Points offers complete mesh coverage with security of McAfee. The devices work together based on Wi-Fi mesh technology that enables consumers to personalize their Wi-Fi network. The Exo Routers use cloud-based machine learning that automatically updates the threat database to adapt to new threats in real-time. The security suite helps parents to protect their kids from malicious websites and harmful content.
---
Original Press Release:
D-Link Announces New Mesh-Enabled Exo Lineup Complete with Built-In Security Suite Powered by McAfee
Routers and Exo Points Will Work Seamlessly to Provide Complete Wi-Fi Coverage and Added Device Protection
LAS VEGAS, Jan. 4, 2019 /PRNewswire/ -- D-Link today announced its new lineup of mesh-enabled Exo routers and extender points. The routers and extenders pair seamlessly to create complete mesh coverage with the added security of McAfee – all in a more traditional router format.
"This new lineup will provide the starting point for a complete Wi-Fi network that expands as a consumer's Wi-Fi needs grow," said Nima Jamshidi, senior product line manager, D-Link Systems, Inc. "It will also help protect them from viruses, malware, and phishing schemes that are more prevalent and widespread today."
The new Exo routers and extenders will all work together using D-Link's Wi-Fi Mesh technology. This technology makes it possible for consumers to personalize their Wi-Fi network and provides the speed and coverage they need now while giving them flexible options to expand later. D-Link's Wi-Fi Mesh also creates one network and automatically connects all devices to the best connection available, even as people move around the home.
The Exo lineup also benefits customers by providing four Gigabit Ethernet ports on the router with additional USB ports available for storage and other devices. Exo points include one Gigabit Ethernet port for stable connections to wired devices.
Each Exo router includes D-Link's robust security suite, powered by McAfee. The security suite starts working as soon as the router is set up, helping to protect every connected device on the network. It uses cloud-based machine learning that adapts to new threats in real-time by updating the threat database automatically.
The security suite also helps parents protect their kids from malicious websites and harmful content. D-Link's parental controls are designed to help protect children while giving parents the ability to create profiles for each of their kids and their devices. From there, parents can choose from a list of preset content filters sorted by age or even create usage schedules based on individual needs.
"D-Link and McAfee share a common vision of keeping consumers protected in the face of a growing number of online threats, said Shailaja Shankar, general manager, mobile and ISP business units, McAfee. "Our extended partnership with D-Link helps give consumers confidence to enjoy the benefits of a connected home in a time of digital uncertainty."
Out of the box, consumers will get the IoT protection for every connected device free for five years. They also get two years of free McAfee antivirus for any laptop, computer, and mobile device. These two services together have an approximate value of $700 over five years.
Availability and Pricing
All Exo routers and points are expected to be available in Q2 of 2019. MSRP for each are as follows:
AC3000 Mesh-Enabled Smart Wi-Fi Router, $199.99
AC2600 Mesh-Enabled Smart Wi-Fi Router, $179.99
AC1900 Mesh-Enabled Smart Wi-Fi Router, $159.99
AC1750 Mesh-Enabled Smart Wi-Fi Router, $119.99
AC1300 Mesh-Enabled Smart Wi-Fi Router, $79.99
AC2000 Mesh-Enabled Wi-Fi Extender, $99.99
AC1300 Mesh-Enabled Wi-Fi Extender, $79.99
About McAfee
McAfee is one of the world's leading independent cybersecurity companies. Inspired by the power of working together, McAfee creates business and consumer solutions that make the world a safer place. For more information, please visit www.mcafee.com.
About D-Link
D-Link designs, develops, and manufactures award-winning solutions for homes, businesses, and service providers. The global leader in connectivity implements and supports unified network solutions that integrate switching, wireless, broadband, IP Surveillance, and cloud-based network management. For more, visit us.dlink.com, or connect with D-Link on Facebook, Twitter, and D-Link's Blog.
CONTACT: Oscar Reyes, D-Link Systems, Inc., 714.885.6226, oscar.reyes@dlink.com; Shane Remer, D-Link Systems, Inc., 714-885-6230, shane.remer@dlink.com Web Site: http://us.dlink.com
More from Materials