Cylindrical Tensioning Device maintains inflated duct appearance.
Press Release Summary: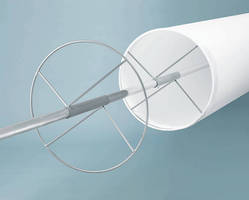 SkeleCore(TM) in-duct cylindrical tensioning device maintains inflated appearance, even during idle air handler periods, and eliminates popping sound associated with equipment start-up. Product consists of ¾ in. dia aluminum tube supporting 3/16 in. dia powder-coated steel, and 360° connecting rings which add tension to inner fabric duct walls. Tubes are 6 ft long and snap into support rings and couplers, and product is available in 15 diameters ranging from 8-36 in.
---
Original Press Release:

DuctSox's SkeleCore(TM) Puts the "Backbone" in Fabric Duct; Eliminates Sags & Wrinkles



DuctSox, Dubuque, Iowa, a leading HVAC fabric air dispersion manufacturer, introduces SkeleCore(TM), the in-duct cylindrical tensioning device (CTD) that eliminates sagging, wrinkling and now confirms DuctSox as the most visually aesthetic air distribution system in the HVAC industry.

The patent-pending SkeleCore is the first fabric duct CTD that maintains an inflated appearance--even during idle air handler periods--and eliminates the "popping" sound associated with equipment start-up. End caps also have a taut, flatter appearance. Competing products and manufacturers either use special external hangers or non-tension, in-duct 180 or 360-degree rings, which still show partial deflation.

The "deflation-buster" SkeleCore consists of a 3/4-inch-diameter, lightweight aluminum tube supporting a series of 3/16-inch-diameter powder-coated steel, 360-degree connecting rings, which are precisely sized to administer tension on the inner fabric duct walls for a permanently inflated, streamlined appearance. SkeleCore's backbone tubes are six feet long and designed to easily snap into the support rings and couplers with a spring-loaded, quick- connect/release mechanism. SkeleCore is available in 15 diameters ranging from 8 to 36-inches.

Versus DuctSox's 3 x 1 hanger system, SkeleCore adds approximately 30-minutes of installation time per 100-foot run, adds four to seven-ounces/foot of weight, induces minimal friction loss, and carries a comparable cost.

Other benefits of SkeleCore are:

o Available with Sedona-Xm(TM) anti-microbial premium permeable fabric, Tuftex(TM) non-porous premium fabric, Coronado(TM) patterned designer fabric, Duratex(TM) non-porous commercial fabric, and Verona(TM) all-purpose commercial fabric. SkeleCore is also available in Comfort Flow and High Throw air delivery models.

o Easily disassembled for air distribution reconfigurations or commercial laundering.

o Carries the same significant material and labor savings that all DuctSox have versus metal duct and register systems.

o Designed to be nested during shipping and carries similar shipping benefits as conventional fabric ductwork.

o Compatible with all cylindrical fabric duct track or cable suspension systems and is a retrofit replacement for all other fabric duct brands.

o Compatible with all DuctSox diffusion systems, the Adjustable Flow Device (AFD), personalization/imaging and other accessories.

o More streamlined than spiral metal duct, which shows protruding registers and helical ribbing along each length.

o Same customer support that's always available from the world-leading manufacturer of fabric air dispersion systems.

For more information on SkeleCore and DuctSox's total line of fabric air dispersion products, please visit www.ductsox.com or call 866-DUCTSOX-ext. 6055.


More from Electrical Equipment & Systems