Cylindrical Hybrid Cells operate for more than 10 years.
Press Release Summary: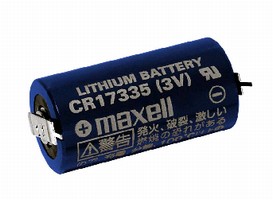 Suitable for automatic meter readers, security devices, and RF applications, Lithium Manganese Dioxide Models CR17450 and CR17335 are laser sealed with operational temperature of -40 to +80°C, heatproof temperature of 90-100°C, and internal minute short-circuit prevention. Rated at 5 V, CR17450 has typical capacity of 2,600 mAh, while CR17335 offers 1,750 mAh capacity. Stable sloping discharge curve at various depths of discharge allows for accurate end of life prediction.
---
Original Press Release:

Maxell Debuts Two Longer-Life, Higher Capacity Limno2 Hybrid Cells For Meters, Security, RF Uses



FAIR LAWN, N.J. - Fulfilling the quest for safer, higher capacity and longer lasting Lithium Manganese Dioxide cylindrical hybrid cells for automatic meter readers, security devices and RF applications, Maxell Corporation of America has introduced its next generation of advanced hybrid cells which operate for more than 10 years and offer 8 to 9 percent higher capacity.

Designated CR17450 and CR17335 by Maxell, the new cells will be displayed for the first time at the AMRA 2007 (Automatic Meter Reader Association) show in Reno, Nev., October 1-3, 2007. Maxell will also attend the AISI Security Show in Las Vegas, Nev., September 24-26.

"Maxell's LiMnO2 hybrid cell is the most advanced Primary Lithium battery design available today and exceeds the many battery requirements of the Next Generation Devices," said Steven Washio, Maxell Energy Products Division's vice president of Sales and Marketing.

Models CR17450 and CR17335, designed to industry standard sizes, have an 8 to 9% higher capacity compared to similar cells currently available. These next generation cells are laser sealed with improved rate capability, wider temperature range and longer operational life expectancy ideal for today's advanced automatic meter reader, security and RF applications. The cells exhibit low self-discharge making them ideal for long-term extended life applications of 10+ years.
The wide operational temperature range of - 40 to +80°C. with an improved heatproof temperature of +90 to 100°C and internal minute short-circuit prevention, enabled by proprietary technology that prevents internal short circuits, making these next generation cells intrinsically safe.

The CR17450 has a typical capacity of 2600 mAh, while the CR17335 has a typical capacity of 1750 mAh. The new next generation cells have a voltage of 3.0 volts and feature a stable sloping discharge curve at various depths of discharge, allowing for accurate prediction of end of life.

Physical dimensions are: CR17450, 17mm in diameter, 45mm in length with a weight of 22g. CR17335 has a diameter of 17mm, a 33.5mm length and weighs 16g. Mass production started in Q4 '05. Samples: $5.00 range, delivery 60 to 90 days.

Maxell is also the world's largest manufacturer of coin and button cells, including Silver Oxide, Lithium Manganese Dioxide, Manganese Dioxide Lithium Rechargeable and Titanium Carbon Lithium Ion Rechargeable batteries. Maxell also manufactures a complete line of Rechargeable Li-Ion Prismatic cells.

For additional information on Maxell Industrial or OEM batteries, write to Maxell Corporation of America, 22-08 Route 208, Fair Lawn, N.J. 07410, or e-mail to cruffin@maxell.com.

More from Architectural & Civil Engineering Products