Cylindrical Grinding Machines feature direct-drive workhead.
Press Release Summary: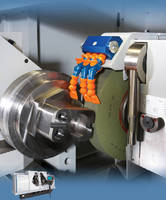 Suited for large, heavy parts, Kellenberger® Kel-Varia CNC-controlled Machines have direct-drive workhead with infinitely variable spindle speed from 1–500 rpm and max weight capacity of 750 Nm/660 lb. Torque drive allows parts to be accelerated and braked with zero backlash during bidirectional movements. C-axis operation supports grinding of grooves and satellite/centering bores, while swiveling hydrostatic B-axis provides simultaneous interpolation of X, Z, and B axes with  0.00002° resolution.
---
Original Press Release:

Kellenberger Introduces New Direct-Drive Workhead and Hydrostatic B-Axis on Kel-Varia Cylindrical Grinder



Kellenberger® Kel-Varia CNC-controlled, universal cylindrical grinding machines feature a robust and rigid direct-drive workhead to provide reliable and accurate grinding of large, heavy parts. A powerful torque drive allows heavy parts to be quickly and precisely accelerated and braked with zero backlash during bidirectional movements for increased productivity. A large spectrum of parts and a wide range of geometries can be processed using combinations of cylindrical grinding, OD and ID out-of-round grinding, thread grinding and jig grinding all in one set-up. Advanced C-axis (ultra-high resolution) operation allows precise grinding of grooves and satellite & centering bores.



The direct-drive workhead has an infinitely variable spindle speed from 1 to 500-rpm (with Heidenhain control) with a maximum weight capacity of 750 Nm / 300 kg (660 lbs) with an option of ±60 second micro-correction for easy adjustment of cylindricity. For between center work, a heavy-duty Morse taper 4 tailstock with nitride-coated sleeve runs in sturdy ball-bush bearings to achieve high rates of in-feed even with heavy parts. A sleeve retraction of up to 50mm is pneumatically or hydraulically operated. Maximum weight is 250 kg / 550 pounds between centers.



The (C-axis) option of interpolating the X and C axes make it possible to use the cylindrical grinding machine for non-round shapes such as polygons, free contours and eccentric forms. The rotary encoder with a resolution of 0.00001° is installed directly on the workhead spindle. All standard grinding cycles work on cylindrical and non-round grinding as well, including the handwheel release for the X-axis. Powerful motors and a fast control system (Heidenhain GRINDplus) ensure highly dynamic non-round and thread grinding operations. Jig grinding capability offers a complete part in one setup, an additional process that would have been done on a second grinding machine.



The swiveling hydrostatic, direct-drive B-axis provides simultaneous interpolation of the X, Z and B axes with easy and simple programming resulting in a resolution of 0.00002°. This CNC controlled B-axis allows complete grinding of traditional and complex parts in a single set-up. A patented Kel-Set wheel-measuring device (option) determines the wheel-edge (vector) to automatically calculate it's angular position.



Kellenberger offers 28+ wheelhead configurations to choose from with multiple grinding wheels for external, face and internal grinding. The universal wheelhead configurations cover various user needs including external, face and internal grinding. Additionally, the use of two internal grinding spindles and the option of thread grinding or non-round grinding can be performed. Grinding in one setup allows shorter processing times and improves the quality of the workpiece considerably. A universal wheelhead can be configured with up to four tools. Diagonal wheelheads provide the option of rough and finish grinding in one set-up. The additional use of high-frequency ID grinding spindles will allow universal OD, face and ID grinding. Tandem-type wheelheads are designed for the possibility of carrying out straight and angular in-feed operations in the same setup. With an additional high-force internal grinding spindle it is possible to process internal grinding work using a tandem-type wheelhead.



Measuring systems can decrease setup and cycle times. Options include Movomatic or Marposs active & passive longitudinal positioning & in-process gauging, KEL-TOUCH gap control and KEL-BALANCE automatic wheel balancing for precision part processing.



Precision hydrostatic guideways provide frictionless grinding, maintaining accuracy during the machine's lifetime. The hydrostatic guides for the longitudinal slide movement (Z-axis), wheelslide in-feed (X-axis) and swiveling B-Axis provide the basis for the machine's extreme accuracy.  Benefits include shorter spark out times and zero backlash during bi-directional movement for reduced total grinding time, less wear on CBN or diamond grinding wheels and improved surface finish. There is no stick-slip effect. Even the smallest increments of 0.1 micron can be traveled without a problem. Kellenberger provides a five-year warranty on the hydrostatic guide ways. The precision hydrostatic guideways in combination with the direct-drive workhead technology provide the highest accuracy in concentricity and radial run-out: Part roundness of <0.2 micron; non-round contour accuracy of <6 micron; internal eccentric bore of <4 micron; straightness (slots) of <2 micron.



Kel-Varia cylindrical grinding machines are manufactured by Kellenberger, a Hardinge company, and are designed to grind large, heavy parts and non-round contours. Three sizes are available with distance between centers of 600, 1000 and 1500mm with center heights of 175, 225 and 250mm respectively. For more information call 607.378.4611 or visit www.hardinge.com.



About Hardinge Inc.

Hardinge is a global designer, manufacturer and distributor of machine tools, specializing in SUPER- PRECISION(TM) and precision CNC Lathes, high performance Machining Centers, high-end cylindrical and jig Grinding machines, and technologically advanced Workholding & Rotary Products. Hardinge is also the world's largest manufacturer of collets (5C Collets, 16C Collets, 20C Collets, Swiss Collets and other styles) for all brands of machines including custom engineered solutions. Hardinge has a very diverse customer base and serves a wide variety of end-user markets. This customer base includes metalworking manufacturers which make parts for a variety of industries, as well as a wide range of end users in the aerospace, agricultural, transportation, basic consumer goods, communications and electronics, construction, defense, energy, pharmaceutical and medical equipment, and recreation industries, among others. Hardinge has manufacturing operations in the United States, Switzerland, Taiwan, and China. For more information, please visit http://www.hardinge.com.

Related