Cylindrical Bend Tester supports multiple mandrel sizes.
Press Release Summary: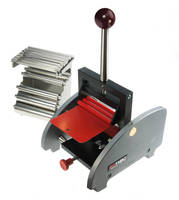 Able to bend up to 150 x 100 x 1 mm test panels, TQC Cylindrical Bend Test performs tests according to ISO standards, including ISO 1519, and indicates elasticity, elongation, and adhesion of paint film at bending stress. Instrument is made of anodized aluminum and stainless steel and features ergonomic clamping device for test panels as well as desktop mandrel holder which can also be mounted to wall. Depending on model, set of 7 or 14 mandrels of varying diameters comes standard.
---
Original Press Release:

Introducing the NEW Cylindrical Bend Test 100MM Incl Mandrel Set SP1820 and SP1822



The TQC Cylindrical Bend Test is a robust yet elegant testing instrument to indicate the elasticity, elongation and adhesion of a paint film at bending stress. The Cylindrical Bend Test is designed to perform tests according to the latest ISO standards. ISO 1519: "Assessing the resistance of a coating, paint, varnish or related products to cracking and/or detachment from a surface when, subjected to bending around a cylindrical mandrel under standard conditions".



Features:

The Cylindrical Bend Test is made of anodized aluminum and stainless steel, and features an ergonomic clamping device for test panels, a large knob on the bending arm for smooth and easy bending, and a desk-top mandrel holder which can also be mounted to the wall for convenience. The instrument will bend test panels up to 150 x 100 mm.



SP1820 includes the Cylindrical Bend Test 100 mm, a desk-top mandrel holder with a set of 14 mandrels with a diameter of 2, 3, 4, 5, 6, 8, 10, 12, 13, 16, 19, 20, 25 and 32 mm.



SP1822 includes the Cylindrical Bend Test 100 mm, a desk-top mandrel holder with a set of 7 mandrels with a diameter of 1/8", 1/4", 3/8", 1/2", 5/8", 3/4", 1".



Standards:

SP1820 Complies to ISO 1519. Look up the appropriate standard for a correct execution of the test. Also refer to ISO 1512-ISO 1514-ISO 2808-ISO 3270. SP1822 Complies to ASTM D522.



Cylindrical Bend Test Specifications:

• Dimensions: 140x 170 x 340 mm

• Weight: 4150 gram

• Max. Test Panel Thickness: 1 mm

More from Architectural & Civil Engineering Products