Cylinder-Driven Pneumatic Press cuts plastic trim.
Press Release Summary: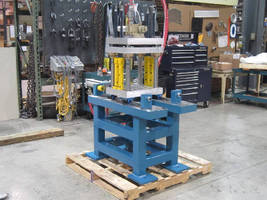 Available in 3–35 ton sizes, Pneumatic Press can be used in flying die or stand-alone operation. Air press and traverse have flexibility to travel with material and cut-off without slowing line speed while operating in tandem or independently. Custom-machined material guides allow press to support plastics entering and exiting die, preventing misfeeds and jams while minimizing overall scrap. Capable of running in continuous mode, flying cut-off press can accommodate long feed lengths.
---
Original Press Release:

AIRAM Pneumatic Press System Offers Extruders Cleaner Cut, Faster Througput



Covington, Ohio – AIRAM has introduced a cylinder-driven, flying cut-off pneumatic press engineered to cut plastic trim for automotive, construction, window and gardening applications.  Faster than a mechanical press, the velocity of the air press allows the machine to provide a cleaner cut or profile. The cost-effective press with its simple cylinder design can be used in a flying die or stand-alone operation. The air press and traverse have the flexibility to travel with the material and cut-off without slowing line speed while operating in tandem or independently.



Custom-machined material guides allow the press to support plastics entering and exiting the die. This feature prevents misfeeds and jams while reducing overall scrap. Especially suited for cutting lightweight material with little to no column strength, the Airam press offers a production uptime of 98 percent.  The new press is available in sizes ranging from 3 tons to 35 tons. Airam's engineering team also can tailor machine tonnage to customer applications.



The easy-to-install air press is a cost-effective, low maintenance option.  With fewer moving parts and no recirculating lubrication, the only components requiring grease are the guideposts.  Long feed lengths are easily accommodated on the pneumatic press due to its ability to run in continuous mode. Since the press does not cycle until the feed function is complete, an operator could run a part 10 feet long then just as easily switch to production of a 3-inch part.



Airam's leadership and technical staff offer extensive experience, technical knowledge and in-depth application engineering expertise to assist customers with selecting the right production system. In addition to the press, Airam has the knowledge and ability to design a turnkey system that can include tooling, feeding equipment, part handling automation, and other ancillary equipment.  Airam cost effectively custom designs presses to fit customers' individual needs. Airam also has a comprehensive spare parts inventory as well as rebuild and preventative maintenance programs to provide key customers with key support services.  Committed to equipping customers with the tools they need to be competitive, Airam offers flexible production systems in tandem or stand- alone configurations with the capability to manufacture quality parts at low cost.  Airam has manufactured and shipped more than 5,000 presses worldwide.



Technical contact: 

Matt Barkman

Sales Manager

PH 800-842-4726

E-mail: 

[email protected]



www.airam.com