CYALKIT-E04 Evaluation Kit can be used with BLE connectivity solutions.
Press Release Summary: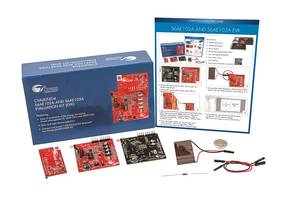 Designed for evaluating S6AE102A and S6AE103A PMICs, CYALKIT-E04 Evaluation Kit comes with solar module, coin battery, reference schematics, BOM list and layout. Featuring two independent boards, kit is used for creating battery-free systems and for evaluation of diverse power management functions.
---
Original Press Release:
New Cypress Evaluation Kit Enables Simplified Design that Leverages Solar Power to Drive a Wide Range of IoT Devices
Kit Provides Easy-To-Use Platform for Design of Battery-Free Systems with Energy Harvesting Power Management
Cypress Semiconductor Corp. (NASDAQ: CY) today introduced a new kit to evaluate its energy harvesting Power Management IC (PMIC) family. The CYALKIT-E04 Evaluation Kit provide developers with an easy-to-use platform to create battery-free systems using a solar-powered module or to support battery-life extension, and can be used for evaluation of diverse power management functions used for wireless sensor nodes. The kit can be used with Bluetooth® Low Energy (BLE) wireless connectivity solutions from Cypress for Internet of Things (IoT) applications.
The kit includes two independent boards to evaluate the ultra-low-power S6AE102A and S6AE103A PMICs that can use solar energy to charge a super capacitor, along with a sensor board to analyze magnetic door sensor or ambient light sensor operation. This kit includes a solar module, a coin battery, reference schematics, a BOM list and layout to streamline designs. More information on the evaluation kit is available at: http://www.cypress.com/CYALKIT-E04.
"The evaluation kit presents developers with a great option to evaluate making their systems battery-free with our energy harvesting PMIC family," said Kiyoe Nagaya, vice president of marketing for Analog products at Cypress. "Energy harvesting allows for usage models where multiple devices can be placed and left to operate without maintenance for battery changes. This opens up a wide range of applications to join the Internet of Things and add intelligence with BLE wireless connectivity by operating on the power of the sun or other forms of light."
About Cypress' Award-winning Energy Harvesting PMICs
Cypress PMICs enable efficient harvesting from ambient light, vibrations and thermal variations, and offer dual inputs from two sources simultaneously, making them a reliable, flexible option to fully power or extend the battery life in IoT applications.
The Cypress S6AE102A and S6AE103A Energy Harvesting PMIC devices operate with startup power of 1.2uW - 4x lower than the nearest competitor - and consumption current as low as 280nA, maximizing the power available for the sensing, processing and communications functions of a target application.
Availability
The CYALKIT-E04 S6AE102A and S6AE103A Evaluation Kit is now available starting at $59 from the Cypress Online Store at www.cypress.com/cypress-store.
About Cypress
Cypress is the leader in advanced embedded system solutions for the world's most innovative automotive, industrial, home automation and appliances, consumer electronics and medical products. Cypress' programmable systems-on-chip, general-purpose microcontrollers, analog ICs, wireless and USB-based connectivity solutions and reliable, high-performance memories help engineers design differentiated products and get them to market first. Cypress is committed to providing customers with the best support and engineering resources on the planet enabling innovators and out-of-the-box thinkers to disrupt markets and create new product categories in record time. To learn more, go to www.cypress.com.
More from Sensors, Monitors & Transducers