Cutting-Edge Infrared Preheating Process Lets Queen City Forging Refine Its Business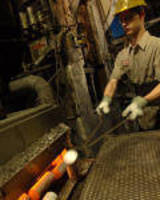 Family-owned Queen City Forging might be a relatively small company, but its president Rob Mayer hasn't let that stop its pursuit of technological innovation.

Working with the U.S. Department of Energy's Tennessee-based Oak Ridge National Laboratory and others, the East End manufacturer has developed a method of rapidly preheating aluminum for forging, using an infrared oven in place of a conventional natural-gas-fired oven. The technology not only speeds up work flow and reduces energy bills, but it also produces stronger, more-durable parts, Mayer said.

The company is also working on a second infrared system for heat-treating forged aluminum parts. That project received a $100,000 grant from the Edison Materials Technology Center in Dayton, which paid for testing by researchers at Ohio University and Oak Ridge.

Queen City has a full-scale prototype set up at its Tennyson Street plant - the only one of its kind in the world - but Mayer said it still needs some refinements.

Queen City's infrared preheating process, however, is already in full production mode. The company has patents pending on some of the key parts of the system, but the basic infrared heating technology is available to anyone, Mayer said.

"The stuff that's really unique is stuff that we're not even going to talk about," he said. "There is no patent protection anymore. The Chinese are going to take what they want."

Mayer estimates capital equipment costs are reduced by half using rapid infrared heating as opposed to conventional heating, and operating costs are cut by roughly 20 percent at today's energy prices. Infrared heating uses electricity, which is generally more expensive per BTU than natural gas, but there's much less wasted energy with infrared, he said.

Saves time, metal integrity

The big advantages are that his infrared oven produces heat almost instantaneously - like a high-powered toaster oven - and the material reaches forging temperature in just 15 minutes.

By contrast, a gas-fired industrial oven can take hours just to reach operating temperature. Then the unheated blanks have to be stacked in an oven hours before they're ready to be forged in order to bring them up to about 800 degrees. (Queen City's largest job uses round cylinders of an aluminum alloy a few inches in diameter and about seven inches long.) So as a practical matter, in a forging shop like Queen City's that's running two shifts a day, a gas oven is almost always on, while an infrared oven can simply be turned off and on as needed.

Using a gas oven also means that some of the blanks - the ones in the back - might be sitting around at 800 degrees for hours before they're forged. That changes the structure of the metal and inevitably affects the characteristics of the finished parts, Mayer said.

"Rapid heating doesn't give the metallurgy time to deteriorate," Mayer said. "You really only want to keep them there as long as it takes the transformation (of the metal) to take place."

Queen City still runs a few jobs using older gas ovens, but the main product it makes with the infrared oven is now its biggest job for its biggest customer, constituting 30 percent to 40 percent of total sales. The part is an aluminum forging that's milled elsewhere into an impeller (like a propeller, but with smaller blades) for a diesel engine turbocharger. Mayer didn't want to disclose the customer's name.

The customer specifies that the parts have to meet certain metallurgical standards, with measurements ranging up to but not exceeding, say, 50, Mayer said. While conventional heating yields measurements very close to 50, rapid infrared heating consistently produces readings in the 30s and sometimes 20s, he said.

"We're exceeding the requirements by about 30 percent," he said, adding that the customer also has confirmed that impellers machined from Queen City forgings hold up better in the field.

Mayer said developing the application of rapid infrared heating for aluminum forging has been crucial for Queen City as the labor-intensive production of more conventional forgings has become cost-prohibitive and moved offshore. For example, it made horseshoes - the kind for pitching - for decades, but it finally gave up on them a few years ago because it couldn't do so profitably in competition with Chinese producers.

"If we had not participated (in the infrared heating project) and then put it into production, there is a chance that we would not be in business today," said Mayer, who has 20 employees and about $2 million a year in sales. "New types of products and products with superior metallurgical properties is really the reason we survived. It gives us a capability that no one else has."

David Swenson, vice president of business initiatives at the Edison Center, said small and medium-size companies develop many advances that keep U.S. manufacturers competitive in the global economy. The center's Core Technology program has funded about 130 projects over eight years and has won four R&D 100 Awards from Research & Development magazine for new technologies with significant commercial potential. It's the same award Queen City shared in 2004 for its rapid infrared heating process.
Keep seat belt fastened

Frank Svet, the Edison Center's president and CEO, said it's focusing on materials for alternative energy, including photovoltaic cells that convert sunlight into electricity, new ways to process materials for wind turbines, and energy storage technologies such as new batteries and ultracapacitors.

Those kinds of technologies could create tens of thousands of jobs in Ohio to offset those being lost in automotive-related industries, Svet said.

Mayer said the key is marrying new technologies with older processes to extend capabilities in ways no one thought of before.

"There's still a great deal of discovery to be made in this field that many people think of as old technology," Mayer said. "Infrared has been around for a long time, but it's ... the electronics revolution that allows you to build this type of equipment.

"They're inventing new aluminum alloys every year. Metals development is not done. There's still things we can do," he said. "Keep your seat belt fastened, because the newest thing coming is going to be nanotechnology."

More from Cleaning Products & Equipment