Cutting and Creasing Rules suit diemaking industry.
Press Release Summary: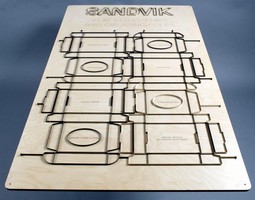 Dieflex Platinum and DieHard Platinum are hard edge coated rules that exhibit hardness ratings from 4,000-5,000 HV while retaining flexibility required for diemaking. Also available, Dieflex MicroCut has all above benefits plus thinner edge bevel and double bevel profile. Microperforating creasing rule, PlastiCrease, is used for controlled and accurate creasing of PET, PVC, and similar plastics. It has serrations with 100 teeth/in. in rule edge.
---
Original Press Release:

New Cutting and Creasing Rules Launched at IPEX



Continuous product improvement by Sandvik's research and development organisation and response to market demands for advanced cutting and creasing diemaking rules, capable of handling new and improved packaging substrates, has led to new product launches at IPEX 2006.

Representing a first for cutting rules in the diemaking industry, Sandvik is launching a range of special hard edge coated rules. Designated Sandvik Dieflex Platinum and a slightly harder body version, Sandvik DieHard Platinum, the new rules outperform the existing hardest edge rules currently available with a hardness of 4000-5000HV. This is almost double the hardness of competitive titanium nitride edged rules and yet bendability for diemaking is not affected.

As a result of this unique coating, the cutting life of the product is greatly increased. Another key feature is a smooth surface on the bevel resulting in reduced friction during the cutting process. As the coating is very thin, there is no rounding of the edges. Sandvik Dieflex Platinum cuts tougher materials at a lower cutting pressure with improved release properties. This reduces dusting problems and at the same time gives excellent and even cutting results on long runs eg cigarette boxes and pharmaceutical packaging. Difficult and abrasive materials, such as plastic laminated board, recycled board, metallized polyester or substrates for the electronics industry can be cut equally well.

Also new for IPEX is Sandvik Dieflex MicroCut, which has all of the benefits of Sandvik Dieflex rules but has a thinner edge bevel and a double bevel profile, which is different from standard cutting rules. This reduces cutting pressure and increases rule life. The thin edge bevel produces a product edge that is less likely to flake, create dust or 'angel hair', and cuts straighter and smoother than conventionally cut substrates. Sandvik Dieflex MicroCut is ideal for use with Sandvik Dieflex MikroNik premicroscopically nicked rules, as it equalises cutting pressure and promotes even wear across the die. The thinner bevel also allows for easier extraction after cutting, thereby reducing dusting. Used together with Sandvik Dieflex MikroNik, cutting speeds can be increased by as much as 30%.

New to the creasing rules range is Sandvik PlastiCrease - a specially designed, microperforating, creasing rule for controlled and accurate creasing of PET, PVC and similar plastics. Developed in conjunction with Zimmer Industries, with whom Sandvik launched the Sandvik Zimmer range of perforating rules for business forms, Sandvik PlastiCrease has serrations in the rule edge - 100 teeth per inch - and with close depth and height tolerances gives a consistent, high quality and smooth crease. The new rule has been produced in response to market demands and the trend to recyclable plastics packaging for display products such as cosmetics.

All of the new rules are available in standard rule heights and sizes.

Supporting the new product launches, Sandvik has developed a novel 'pop-up' rule selector to demonstrate how the new products fit into the overall cutting and creasing rules product range. Sample packs of the new rules have also been prepared together with technical datasheets.

Issued by: Nyans Communications
Stowe House
1688 High Street
Knowle
Solihull
West Midlands B93 0LY
UK
Contact Trevor Smith
Tel: +44 (0) 1564 777231
Fax: +44 (0) 1564 778080
Email: trevor@nyans.co.uk

On behalf of: Sandvik Materials Technology - NAFTA
2235 Dewey Ave.
Benton Harbor
Michigan 49022
US
Tel: 1-800-253-2437
Fax: 1-269-926-2718
Email: diecutting.steel@sandvik.com
Internet: http://www.smt.sandvik.com/diecutting

More from Packaging Products & Equipment