Cutaway Plug Valve Demonstrates Sales Features for Array Products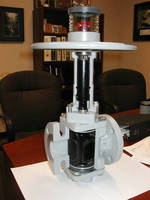 Model Builders, Inc. of Chicago, IL recently cut away several Accuseal 2" Expanded Plug Valves for Array Products in Houston, TX so that during Array's sales calls potential customers can actually see the internal advantages of that valve. These valves are effective for offshore platforms, aviation fueling, tank farms, terminals, custom transfer units, meter stations, multiple product manifolds and bulk product isolation.

Often the best way to tell the product story is with a cutaway. Unique features, how well the product is made and principles of operation can be shown. To see quality is to believe it. With the cutaway Accuseal Valve you can see (1) the One Piece Plug & Stern which eliminates stem-to-plug connection failures cornmon with many two-piece designs, (2) valve seals molded into the slip providing strength, durability and long seal life and (3) seals are fully retracted when the valve is being opened or closed which prevents abrasion enabling longer seal life and a perfect fit every time.

The valve can open and close even though it is cutaway. This Accuseal DBB (double block and bleed) valve is a single valve solution that provides the function of simultaneously blocking both the upstream and downstream flow while allowing the user to verify seal integrity utilizing a manual or automatic body bleed system.

The valve weight was reduced from 49 lbs. to 24 lbs. by having Model Builders, Inc. cast the four external housing parts out of aluminum in place of the steel used in the production housing and partially by the metal that was cutaway. The reduced weight of the cutaway makes the valve easier to handle.


More from Communication Systems & Equipment