Cut-Resistant Winter Gloves keeps hands safe and warm.
Press Release Summary: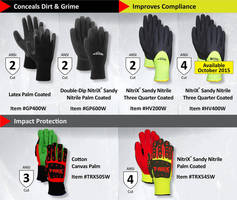 Increasing worker safety and comfort, several styles of gloves pair thermal protection for use in cold weather conditions with cut resistance for handling sharp materials. Black gloves hide dirt and grime, and bright colors are available to promote visibility. Depending on specific glove type, features include ANSI Cut Level 2 rating and latex or NitriX® sandy nitrile double- and ¾-dip palm coatings. Also available, impact-resistant gloves deliver ANSI Cut Level 3 and 4 protection.
---
Original Press Release:

Magid® Introduces Cut-Resistant Winter Glove Line



Designed to Help Keep Hardworking Hands Safe, Warm and Comfortable



ROMEOVILLE, IL – Magid®, a leading manufacturer and supplier of safety solutions and personal protective equipment (PPE), expands its broad line of work gloves to include thermal protection for cold weather conditions, paired with the cut resistance that workers need to protect against sharp materials. The newest styles address a variety of customer requirements such as hiding dirt, improved visibility and impact protection.



"There is a growing need for work gloves to protect workers from multiple safety concerns," says Sarah Anderson, Senior Product Manager at Magid. "These work gloves provide an array of innovative solutions for our customers' constant need for protection, even when the temperatures drop."



Cut-resistant, thermal, coated styles are available in black to hide dirt and grime or bright colors for high visibility:



• Magid Thermal Coated Work Gloves (Item #GP400W) | All black with latex palm coating for  excellent wet and dry grip in ANSI Cut Level 2  



• ROC® Thermal Double-Dip Coated Work Gloves (Item #GP600W) | All black with NitriX® sandy nitrile double-dip palm coating for superior wet and oil grip and longer wear life in ANSI Cut Level 2



• ROC Hi-Viz Thermal Coated Work Gloves (Item #HV200W) |High-visibility shell with NitriX sandy nitrile ¾ dip coating for improved protection and dexterity in ANSI Cut Level 2



• D-ROC® Hi-Viz Thermal Coated Work Gloves (Item #HV400W) | High-visibility shell with NitriX sandy nitrile ¾ dip coating for heavy duty jobs handling sharp or abrasive materials in ANSI Cut Level 4



Cut-resistant, thermal T-REX® impact gloves ensure protection against damaging impacts and feature bright colors for high visibility:



• T-REX Hi-Viz Thermal Cotton Canvas Palm Impact Gloves (Item #TRX505W) | Cotton canvas palm and waterproof liner keeps hands safe, warm and dry in ANSI Cut Level 3



• T-REX Hi-Viz Thermal Impact Gloves (Item #TRX545W) | NitriX palm coating for rock solid grip in oily conditions and DuraBlend™ shell delivers 360° ANSI Cut Level 4 protection 



When workers need solutions for cold weather conditions, they shouldn't have to sacrifice protection from other safety hazards. These new styles provide cost-effective performance while meeting demanding needs.



About Magid

Headquartered in Chicago suburb, Romeoville, IL, Magid is a leading manufacturer, importer, distributor and direct supplier of personal protective equipment (PPE) and value-added services for the industrial and consumer markets.  Magid safety solutions address customer challenges including compliance, accident prevention, cost containment and inventory management. A valued partner in safety to thousands of companies since 1946, Magid offers 700 of safety's leading brands including its own signature Magid branded products along with 3M™, Ansell®, DuPont™, Honeywell, Carhartt®, MAPA®, MSA, Showa and many more. Visit magidglove.com or call 1-800-444-8030.



Contact:

Sherry Davenport

Director of Marketing

773-289-1385



[email protected]