Cut-Resistant Gloves improve worker safety in two ways.
Press Release Summary: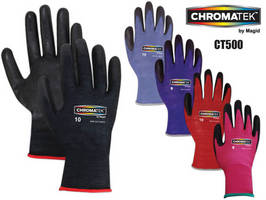 Available in black, blue, pink, purple, and red for increased worker visibility, ChromaTek(TM) CT500 high performance polyethylene (HPPE) gloves offer ANSI Cut Level 2 and ANSI Abrasion Level 6 protection. Black polyurethane palm coating channels away liquids and oils, promoting flexibility, dexterity, and grip, while form-fitting, breathable shell, constructed using 15-gauge HPPE blend, promotes tactile sensitivity. Extended knit wrist cuff has rubber band overcast finish.
---
Original Press Release:

Magid® Introduces ChromaTek(TM) CT500 Gloves in Multiple Colors



With five available colors, ChromaTek cut-resistant gloves allow users to move away from grey and add a little personality to their safety program

CHICAGO, IL - With the launch of Magid Glove & Safety's new ChromaTek CT500 Gloves, cut-resistant high performance polyethylene (HPPE) gloves are available for the first time in multiple color options. ChromaTek gloves are offered in black, blue, pink, purple, and red colors, allowing workers the opportunity to express themselves with an attractive color choice of their own. On top of the aesthetic appeal, the different color options provide several practical advantages over white and grey gloves, as well. The brighter color options increase worker visibility, keeping people safer on the job and facilitating easier compliance checks. The darker colors in the ChromaTek line hide dirt and grime, extending the service life of the glove, particularly in comparison to white HPPE gloves.

Featuring ANSI Cut Level 2 and ANSI Abrasion Level 6 protection, ChromaTek CT500 Gloves are about much more than just color, living up to the solid cut protection that users have come to expect from ANSI cut resistant gloves. Adding to their inherent strength is a black polyurethane palm coating that channels away liquids and oils, ensuring added flexibility, dexterity and grip, especially compared to plastic and nitrile coatings. The gloves can also be laundered, further increasing the wear time of each pair.

Knowing that comfort and breathability are the keys to a successful hand protection program, Magid has pulled out all the stops when it comes to designing a highly-wearable machine knit shell for ChromaTek Gloves. The shell is constructed using a Magid-specialty, super-high-density, 15-gauge HPPE blend that contains more yarn filaments than other HPPE gloves. The form-fitting, breathable shell heightens tactile sensitivity, allowing workers freedom of movement to better handle small and delicate parts, increasing worker productivity and compliance.

"Magid is very proud to be the first company to offer HPPE gloves in an array of color choices to the North American market," says Andres Maldonado, Director of Marketing, Magid Glove & Safety. "Not only do ChromaTek Gloves allow our customers to personalize their hand protection program but they deliver excellent protection and unsurpassed comfort that are sure to boost both compliance and worker satisfaction."

Available in sizes 6-11 (with the exception of the pink and purple styles that are available in sizes 6-9), ChromaTek CT500 Gloves feature an extended knit wrist cuff with a color-coded, rubber band overcast finish that improves fit and prevents fraying at the edge. These gloves are packed 12 pairs to a polybag and 144 pairs to a case with additional discounts available for volume purchases.

About Magid Glove & Safety Mfg. Co. LLC
Headquartered in Chicago, IL, Magid Glove & Safety is America's leading manufacturer, importer, distributor and direct supplier of hand protection, personal protective equipment (PPE) first aid products and protective and disposable clothing. A valued partner in safety to thousands of companies since 1946, Magid proudly offers its own signature Magid branded products as well as products from such top-quality brands as 3M(TM), Ansell®, DuPont(TM), Honeywell, Kimberly Clark®, MAPA®, MSA, Showa® Best® and many more. Utilizing a state-of-the-art warehouse management system, Magid ships 95% of its orders within 24 hours of receipt from the world's largest PPE inventory of over 30,000 items. For more information about Magid Glove & Safety or its full line of gloves and personal protective safety equipment, please visit www.magidglove.com or call 1-800-444-8030.

Lisa Bucki
Marketing Communications Manager
Magid Glove & Safety
Manufacturing Company LLC
2060 N. Kolmar Ave. | Chicago, IL 60639
Office: 773-289-1395 | Fax: 773-289-9395
Email: lisabucki@magidglove.com
Order online at: www.magidglove.com

More from Architectural & Civil Engineering Products