Cut and Strip Machine processes wire from 10-30 AWG.
Press Release Summary: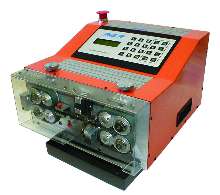 Fully automated CS-800 can cut and partial strip 6,150 piece per hour at 2.5 in. lengths, and 5,700 pieces per hour at 4 in. lengths. It offers programmable batching and 10 variable feed rates.
---
Original Press Release:
The CS800 Cut & Strip

The Eraser Company, experts in wire and tubing cutters, announces the fully automated CS800 Cut and Strip machine. The CS-800 processes wire from 10AWG - 30AWG and can quickly and precisely cut and partial strip 6,150 pieces per hour at 2.5 lengths (63.5 mmx), and 5,700 pieces per hour at 4 lengths (101.6 mmx). With programmable batching and ten variable feed rates, the CS800 is the perfect production tool for complete automation.

Since 1911, The Eraser Company of Syracuse, NY has manufactured a wide range of industrial products including wire, cable and tubing cutters, wire and cable strippers, wire twisters, wire brush wheels, dereelers, infrared heating equipment, measuring tools, and fybRglass. erasers. The company is ISO 9001:2000 certified. The company offers Free E.S.P. (Eraser Sample Program). Send a 5-10 foot sample of your material and Eraser will recommend the best solution for your processing needs from its line of more than 200 products. For unique processing needs, Eraser will custom design a solution for you. For more information on Eraser's entire product line visit www.eraser.com or call 315-454-3237.
More from Materials