Cut and Strip Machine is built for precision and productivity.
Press Release Summary: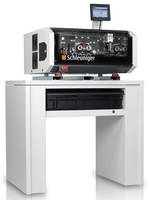 Along with indexing cutter head that allows mounting of various blade and tool sets, MultiStrip 9480 features programmable rotary incision capability for processing coaxial and micro-coaxial cables as well as handling other multi-layer applications. Optional universally deployable slitting unit, which attaches directly to SmartBlade blade cartridge, increases accuracy during slitting process. Also, SmartBlade system enables complete blade sets to be exchanged within seconds.
---
Original Press Release:

MultiStrip 9480 - The Most Versatile Cut and Strip Platform



At this year's productronica China trade fair, Schleuniger debuted the new MultiStrip 9480, the company's latest innovation in their cut and strip product family. This versatile, new machine furthers Schleuniger's leading position in this market segment.



"Thanks to innovative technical solutions, the MultiStrip 9480 simplifies and extends the spectrum of possible applications once again," says Schleuniger product manager Rajeevan Kumaran. "There is no machine that allows a wider variety of cables to be processed than the MultiStrip 9480."



A range of technical characteristics form the foundation for this versatility. First, Schleuniger's unique indexing cutter head allows a wide variety of blade and tool sets to be mounted. Next, the freely programmable rotary incision capability enables high-precision and fast processing of coaxial and micro-coaxial cables, as well as the handling of other multi-layer applications. In addition, an optional universally deployable slitting unit that attaches directly to the SmartBlade blade cartridge is available and considerably increases accuracy during the slitting process.



Maximum Productivity and Simplified Programming



The MultiStrip 9480 can be set up quickly and easily and features short retooling times. Kumaran explains, "With this machine, changeover times are minimized in order to maximize productivity." Kumaran's statement is supported by the machine's SmartBlade system, which enables complete blade sets to be exchanged in a matter of seconds and the magnetic guide tubes, which can also be exchanged in seconds without the use of tools. The machine's high degree of productivity is also based on its fast transport speeds, the parallel and simultaneously running axes, as well as the extremely fast cutter head. Finally, Schleuniger's exceedingly reliable technology almost completely eliminates downtime due to technical breakdowns.



The MultiStrip 9480 features intuitive programming via high-definition color touchscreen. With its user-friendly navigation, both experienced users as well as the occasional machine operator can learn to program the machine with ease. The time required for programming is reduced even further thanks to predefined standard parameters for common cable types and freely programmable material and processing libraries.



Precision and Versatility



The MultiStrip 9480 is available in six machine versions to meet individual production needs and budgets, allowing customers to invest in a customized solution. A wide range of options and accessories increase the machine's versatility and provides users with a virtually unlimited range of application possibilities. For example, users can choose between roller drives and belt drives as well as a large selection of blades, combing and slitting units. Existing OmniStrip 9450 and PowerStrip 9500 users can continue to use their existing blades after switching to the MultiStrip 9480, helping to minimize investment costs. With Schleuniger's full line of peripherals, including prefeeders, wire marking machines, coilers and stackers, users can easily integrate the MultiStrip 9480 into a fully automatic processing line.



"Our claim is To Be Precise," Kumaran states emphatically and emphasizes that with the MultiStrip 9480, this claim has once again been fully implemented. He notes that amongst other things, the MultiStrip 9480 is equipped with a high-precision cutter head for applications that require maximum cutting quality. And of course, Schleuniger's CX and RX technology has been setting the benchmark for coaxial and micro-coaxial applications for many years. Kumaran concludes by adding, "Companies that require a machine for cutting and stripping and want unrivalled versatility and a high degree of precision will love the MultiStrip 9480!"



More information about this new product can be found at www.schleuniger-na.com. Should you have any questions, please e-mail sales@schleuniger.com or call (603) 668-8117.



About Schleuniger

The Schleuniger Group in Thun is a globally active technology company and a leading supplier in the Wire Processing industry. Customers of the Schleuniger Group primarily supply the automotive, entertainment, and information industries as well as the communication sector. Schleuniger products are used whenever precise wire processing plays a role.



Development and production are located in Switzerland, Germany, and China. Schleuniger is always close to its customers - with four Sales and Service companies in the US, Germany, China, and Japan as well as with 40 distributors worldwide.

The Schleuniger Group represents the Business Unit Wire Processing of the listed Metall Zug Group and has about 600 full-time employees and 30 trainees worldwide.

More from Machinery & Machining Tools