Customized Solutions from Zest Generator Sets Resolve Challenging Standby Power Supply Issues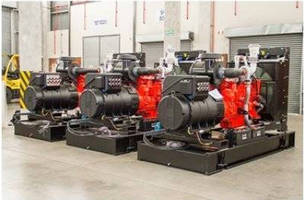 Power outages have become increasingly frequent with a widespread knock on impact being experienced across industry. The ability to provide fit-for-purpose standby power solutions is the marque that has distinguished Zest WEG Group's Generator Set Division.



Standby power solutions can range from a single diesel driven generator set to a total standby power solution depending on the size of the building or project in question. Larger contracts often require a blend of smaller and larger generators to meet the needs of the various elements within the project. In all instances, fast reaction times from suppliers and the deployment of a reliable and durable generator set should be the standard.



Zest WEG Group's Generator Set Division has built a solid reputation with a large number of clients over a diversity of industries, clearly demonstrating its capability to cater for large-scale standby power projects. A number of recent contract awards highlight the company's ability to provide solutions that range from standalone generator sets to turnkey power stations, such as the one supplied to AVI Group's Indigo Brands.



This original equipment manufacturer is responsible for the total project management and control coordination, including the testing and commissioning of the entire system. Close cooperation with the customer ensures that the design of the standby power solution seamlessly integrates with the overall structure of the building to allow the equipment to be readily accommodated.



The scope of supply on the Indigo Brands project comprises three 1 000 kVA generator sets and three 1 000 kVA transformers. Zest WEG Group's Generator Set Division is also designing a custom-built electrical panel for distribution, interfacing and synchronization purposes. The company will additionally be supplying a 23 000 liter bulk fuel tank system, as part of the optimum solution.



In a recent refurbishment contract, a containerized standby power solution was supplied to a client at the VA Waterfront. Craig Bouwer, projects and product manager at Zest WEG Group's Generator Set Division explains that after discussions with the customer it was determined that this would provide the most cost effective solution.



The project involved a 'rig-out' of the existing equipment from the original building, designing and fitting a sound proof canopy, louvres and base frame adaptor, to allow the generator set to be housed outdoors, as well as final testing of the newly containerized unit.



Silo 1 tenant Allan Gray occupies a Green Star building that requires adherence to specific environmental regulations. Zest WEG Group's Generator Set Division supplied a customized solution on this flagship project that met the latest European Tier 3 emissions-control regulations. The system, which incorporates specialized switching controls to ensure continuous power at a major data center, is designed to reduce the exhaust emissions from diesel-powered generators, which include nitrogen, hydrocarbons, carbon monoxide and particulate matter in the form of any visible smoke and soot.



In addition, the company supplied and installed inlet and outlet air sound attenuated splitters that meet the sound level requirements of 65 db(A) at 7 meters. This contract forms part of the larger Silo Precinct project, which calls for five 500 kVA generator sets that synchronize with a common control panel.



"The V&A Waterfront is only one of many flagship projects that Zest WEG Group's Generator Set Division has been involved with. Another notable project is Century City, a 250 ha mixed use development in Cape Town that combines office, retail, residential and leisure elements. We are in the process of supplying and installing one 400 kVA and two 800 kVA generator sets for the Urban Square residential, hotel and conference project at Century City," says Bouwer.



"A particular challenge we encountered at Urban Square was that we were required to provide solutions and designs for irregular room sizes and exhaust runs. The ability to remain flexible and devise customized solutions is a hallmark of our capability as a supplier of non-standardized generator set solutions," Bouwer continues.



In yet another customized solution project, Zest WEG Group's Generator Set Division was contracted to supply, install and test an 800 kVA generator set into a purpose-built plant room at the Melomed Private Hospital in Tokai, which is currently under construction by Murray & Roberts Western Cape.



"The generator set measured 4 meters long by 1.6 meters wide and 2.3 meters high and weighed almost 9 tons. Inlet and outlet acoustic louvres were required to ensure that the noise level remains under 65 db(A) at 7 meters. We also supplied a purpose-built changeover electric panel for remote mounting," says Bouwer.



Key to Zest WEG Group's Generator Set Division's success on such specialized projects is its ability to devise innovative solutions. A prime example of this is the contract to supply a standby power supply for worker accommodation at the DRA Minerals Firestone Diamonds Liqhobong Diamond Mine in Lesotho.



A major challenge encountered by the Zest WEG Group's Generator Set Division team was the location of the mine, which is positioned 2 000 meters above sea level in the Maluti Mountains. Not only did special consideration have to be given to the logistics of transporting all components to the site, but the presence of significant amounts of snow during May to September called for an innovative solution to the housing of the generator sets. The Liqhobong Diamond Mine access road had to be widened and its load-bearing capacity increased to accommodate the low-bed trucks transporting the generator set solution.



Zest WEG Group's Generator Set Division designed, supplied and installed three 12 meter high purpose-built containers that incorporate a special 'snow roof' structure to prevent snow build-up on top of the generator sets, and subsequent blocking of the louvres. Particular attention was paid to the design and engineering of these 'snow roofs' to enable them to be collapsed when the containerized units are transported.



The three 630 kVA generator sets needed to be synchronized via Woodward Easygen controllers and were subject to a soundproofing requirement of 65 db(A) at 7 meters. This stringent standard is normally applied to residential areas but was deemed necessary, since the application was for worker accommodation. Further requirements were for a 1 000 liter fuel tank with gauge and level indicators and a fusible fire link on the generator sets and inlet dust filters. Furthermore, a 6 meter load distribution container, with a self-contained fire suppression system, was also provided.



Zest WEG Group's Generator Set Division offers 20 kVA units up to 250 kVA off-the-shelf products, 300 kVA to 2 000 kVA individual customized units as well as multiple sets to achieve turnkey solutions in excess of 12 MVA for large-scale applications or projects. All gensets are sold with a standard 12 month warranty, and maintenance contracts are also available for all applications. A notable differentiator is that the company offers a 24/7 breakdown support service.



"Zest WEG Group's Generator Set Division has an extensive reference base of customized solutions for challenging and arduous applications. Leveraging the experience gained by our technical team on an impressive number and variety of projects in both the commercial and industrial markets, we are able to mitigate any power supply problems for the medium and long term," Bouwer concludes.