Customized Linear Motion Solutions from Haydon Kerk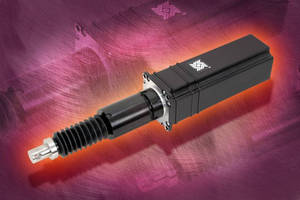 WATERBURY, CT - Haydon Kerk Motion Solutions prides itself on its ability to customize linear motion systems for just about any application. Among these applications is a linear actuator used in a throttle control system designed specifically for harsh environments.

This particular linear actuator is used to control the power to a cement mixer aboard a piece of heavy construction equipment. The typical operating environment for this application ranges from extremely dry and dusty to extremely hot and humid with nearly every other possibility in between.

After getting an understanding of the base models offered by Haydon Kerk, the equipment manufacturer worked closely with the Haydon Kerk design engineers to modify a "base" actuator to fit the specific application. The end result is a completely sealed linear actuator that withstands dirt, debris, and moisture.

The actuator has a rear enclosure that houses and seals the lead screw and bearing assembly, a bellows between the adapter and sleeve, a cable gland between the rear cover and cable, and an electrostatic coating on the lamination stack that effectively creates a permanent seal. The actuator also contains integrated switches for extended and retracted positions.

This is just one example of the far-ranging customization capabilities offered by Haydon Kerk. Over the years, Haydon Kerk has designed thousands of application-specific solutions into a broad range of systems for medical devices, laboratory instrumentation, semiconductor fabrication equipment, communications equipment, and a host of other applications.

For more information on what Haydon Kerk has to offer, visit www.HaydonKerk.com. Field sales and product design engineers are available to answer application-specific questions.

About Haydon Kerk Motion Solutions, Inc.

Haydon Kerk Motion Solutions is a unit of AMETEK, Inc., a leading global manufacturer of electronic instruments and electromechanical devices with annualized sales of $2.9 billion. For more product information and CAD links, visit www.HaydonKerk.com or speak with an engineer to discuss a specific application by contacting Haydon Kerk at 203-756-7441.

Haydon Kerk Motion Solutions is the joining of two world-class brands in the field of linear motion: Haydon Switch and Instrument, Inc. and Kerk Motion Products, Inc. Together as Haydon Kerk Motion Solutions, they offer a wide range of high-performance and precision linear motion products. Recognized as a leading manufacturer of stepper motor based linear actuators, rotary motors, lead screw assemblies, and linear rail and guide systems used in niche market applications, Haydon Kerk Motion Solutions has developed industry-renowned brands built upon its technical innovation, versatility, customization, product durability, and dedicated customer service.


More from Controls & Controllers