Customizable DAB Module targets automotive market.
Press Release Summary: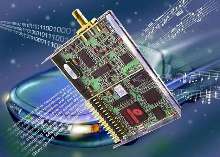 Based on TMS320DRE310 DSP, Model RS350A can process 3 DAB channels on multiplex simultaneously to provide any combination of audio and data channels. It receives DAB Band III and L-band, enabling it to be used wherever there are Eureka 147 DAB transmissions. Service Linking lets radio automatically move to associated stations when it goes out of range. Powered from 5 and 3.3 Vdc, module delivers phantom power up antenna cable to power amplifier at base of antenna.
---
Original Press Release:

Radioscape Brings Its Innovative Concept of Customisable DAB Modules to Cars


London, UK - 12 July 2004 - The next big area of explosive growth for DAB digital radio is undoubtedly in the automotive sector. Interestingly, this is the one that it was originally designed for with a specification that can handle the challenging environment of having to receive in a fast moving vehicle and cope with complex echoes and signal fading conditions. The kitchen radio market for DAB has expanded exponentially over the past year and this has opened the DAB market for automotive both in terms of awareness and reduced costs. As a result, many car manufacturers are now in the process of defining their digital radio strategy. Using the experience from designing its highly successful range of DAB modules for the kitchen radio market, RadioScape is now launching a module designed specifically for the DAB automotive market - the RadioScape RS350A(TM).

Nigel Oakley, Vice President of Marketing at RadioScape, said, "The car is a challenging environment both physically and electronically. We have used our many man-years of experience with RF to design a module for automotive use that provides the optimum reception whilst rejecting electrical interference. Our initial discussions with car radio manufacturers have enabled us to fine tune the RS350A to precisely meet their requirements for a DAB module that is tailored to meet the needs of automotive and can be quickly customised via software for their individual applications."

The new module has several new features for automotive use. It can process three DAB channels on a multiplex simultaneously to provide any combination of audio channels and data channels of news or travel information. Service Linking enables the radio to automatically move to associated stations when the first goes out of range using linking information provided by the broadcaster. This linking can be either from one local DAB station to the another similar service or from one DAB station to the FM equivalent if the DAB coverage is no longer available due to the car moving out of range. Lastly, the module provides "phantom" power up the antenna cable to power an amplifier at the base of the antenna. This is the preferred design for many cars as it removes the necessity of having expensive coaxial cable to screen the signal cable, instead it boosts the signal from the antenna immediately for its journey to the receiver so that it stands out from any background interference.

As with the other module designs from RadioScape, it is based on software running on a Texas Instruments DSP - in this case, the new, powerful TMS320DRE310. This software-based solution enables RadioScape to easily customise solutions to suit each manufacturer's individual requirements, which cannot be done easily with the hard-wired ASIC solutions from rival companies. This is particularly important in the automotive market as each car manufacturer has different requirements regarding interfaces etc.

Specifications and price
The RS350A is powered from an externally regulated DC supply of 5V and 3.3V. Control is provided via a serial interface - for example I2C. It measures 62mm by 37mm by 10mm to allow vertical fitment in a standard automotive receiver DIN enclosure and is fully screened to meet all electromagnetic requirements for automotive type approval. It can receive DAB Band III and L-band enabling it to be used world-wide wherever there are Eureka 147 DAB transmissions. This fully integrated module requires only the minimum of external components. Prices start from around $40 depending on the volume ordered and optional features included such as Pause and Rewind. Availability of samples will be in Q3 2004 with volume shipments in early Q4 2004.

The design of the module can be licensed if manufacturers wish to build it themselves.

About RadioScape
RadioScape Ltd. is one of the world leaders in Software Defined(tm) solutions for Digital Radio applications. RadioScape simplifies the creation of wireless receivers and transmission infrastructure for digital radio, partners with Texas Instruments to create digital radio chips for consumer products, and designs its own family of DAB/FM modules including the RadioScape RS200(tm), RS200L(tm), RS201(tm), RS250H(tm) and RS350A(tm). Founded in 1996, RadioScape's investors include Royal Bank Ventures, Scottish Equity Partners, Atlas Venture, JAFCO, Texas Instruments, Yasuda Enterprise Development, iGlobe Partners, Psion and NTL. RadioScape is headquartered in London, England and also has an office in Singapore. For more information, please visit www.radioscape.com.

More from Optics & Photonics