Custom Workholding System improves machining throughput.
Press Release Summary: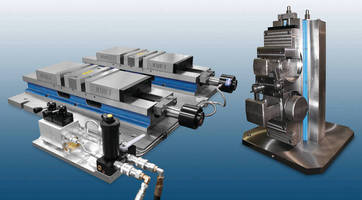 Applicable to new machining projects as well as those requiring improved throughput, Custom Engineered Workholding provides precise and repeatable part clamping; high-density, flexible clamping of related parts on same fixture; and rigidity. Accelerated load/unload features increase part output to maximize productive machining center capacity. Options include hydraulics, air sensing, prox switches, and part gaging. Productivity can also be increased with integrating robot arms.
---
Original Press Release:

Custom Engineered Workholding from Kurt Improves Machining Throughput While Decreasing Costs



Minneapolis, Minnesota: New machining projects and ones requiring improved throughput can benefit from a Custom Engineered Workholding system from Kurt Manufacturing Company. The benefits include: high precision and repeatable part clamping, high density, flexible clamping of a family of parts on the same fixture, high rigidity and automated high productivity/output.



By maximizing the productive capacity of today's machining centers, a Kurt Custom Engineered Workholding system will increase part output while lowering costs. This is accomplished with high-density workholding designs and fast load/unload features.



Kurt offers the widest range of standard products in the workholding industry. By first analyzing the possible use of its standard vise products, Kurt ensures the overall lowest workholding cost. By utilizing standard products in conjunction with custom modifications, upfront costs and future maintenance can be greatly reduced. Kurt controls the manufacturing of both the standard product and custom fixture ensuring the new workholding setup is matched dimensionally.



Kurt offers high precision, high quality standard product solutions. From tombstones, to manual vises, to dedicated hydraulic vises, to a completely new design, Kurt has the solution. Kurt's custom workholding engineers have built an industry leading reputation assisting automotive, aerospace and other metalworking intensive industries to improve quality and reduce cycle times.



Kurt's Custom Engineered Workholding includes options for hydraulics, air sensing, prox switches and part gaging to accommodate various part sizes within a family of parts. Kurt's in house workholding design engineers are experienced in integrating workholding into automated cells.



By integrating robot arms into fixtures, productivity can be greatly increased allowing automated part loading, machining on all sides of parts and unloading and stacking of finished machined parts. Systems also can include automated part gaging for quality and real time process control with complete part traceability. These custom systems can be designed for a single machining center or to automate an entire cell of dozens of machining centers and support systems.



"Kurt will partner on a project from start to finish including research, design, development and building workholding systems and fixtures," reports Steve Kane, global sales and marketing manager for Kurt Industrial Products. "No project is too large or small for Kurt. Our industry accreditations, large scale capacity, ultra modern facilities and highly experienced engineers solve the most challenging projects in virtually every manufacturing industry." *



See more about Kurt's Custom Engineered Systems at www.kurtworkholding.com



Call in USA and Canada, 1-877-226-7823. Outside USA and Canada, call 1-763-574-8309. Email: workholding@kurt.com



Kurt Manufacturing Company, Industrial Products Division, 9445 East River Road NW, Minneapolis, Minnesota 55433. In USA, Fax 1-877-226-7828. Outside USA, Fax 1-763-574-8313.



* Kurt designed, built and integrated all fixturing for its own automated FMS system in 2008. The system operates 24/7 precision machining world famous Kurt Anglock vise products.

More from Test & Measurement