Universal / Constant Velocity Joints
Custom Universal Joints target packaging/conveying industry.
Press Release Summary: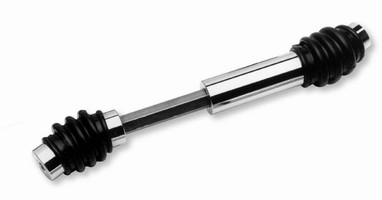 Machined from stainless steel, corrosion resistant universal joints and drive shaft assemblies are also resistant to sterilizing solutions, nitric acid, inorganic chemicals, foods, and organic chemicals and dyes. Heavy duty units can be manufactured in both inch and metric sizes with operating angles up to 35°. Needle bearing joints provide precise positioning and can operate continuously at high speeds. Units can also be passivated to remove impurities.
---
Original Press Release:

Corrosion Resistant Universal Joints for Packaging and Conveying Applications



Broadview (Chicago), Illinois, May 2007. Belden Inc., manufacturer of universal joints, offers corrosion resistant universal joints and drive shaft assemblies for the packaging and conveying industry. Packaging and conveying applications require corrosion resistant materials to ensure proper sanitation. Standard alloy steel does not repel caustic substances and can lead to contamination. Belden universal joints can be manufactured to withstand the corrosive environment found in packaging, conveying and food applications while meeting the tough standards set by these industries.

Heavy duty, high strength and needle bearing universal joints from Belden fit applications such as packaging, conveying, casing, wrapping, labelling, marking, placing, bottling, canning and inserting. Machined from stainless steel, the universal joints are resistant to sterilizing solutions, nitric acid, inorganic chemicals, foods, and to most organic chemicals and dyes. Stainless steel universal joints offer durability and versatility in any equipment or machine running in harsh environments or exposed to a wash down or water for long periods of time, even in the most extreme operating conditions.

The single universal joint design can be modified to make double butted or true compact double universal joints as well as complete drive shaft assemblies with a telescoping feature for easy on/easy off installation. Needle bearing universal joints provide precise positioning and can operate continuously at high speeds. Hub materials are available in various grades of stainless steel including 303, 304 and 316. Bores can be customized for any inside diameter and depth to attain a blind configuration, preventing shaft penetration into the center joint components and added protection against contamination. The universal joint assembly can also be passivated to remove impurities. Boot covers are recommended in gaseous and abrasive environments for added protection of the pins and block or cross and bearing. Food grade grease to ensure cleaner and safer processing is available upon request. Universal joints can be manufactured in both inch and metric sizes and operating angles up to 35°.

Belden's specialty are custom assemblies made to specific applications and exact operating criteria. Belden provides an extensive line of precision engineered universal joints with complete shaft assemblies for a wide range of applications.

About Belden:

Belden Inc. is a leading manufacturer of high quality, precision universal joints and power transmission assemblies. Going back to 1939, when three brothers opened a precision machine shop, the company rapidly expanded through the development of an extensive product line. Belden provides high-performance solutions to a vast number of industries with a focus on custom universal joints and drive shaft assemblies, made exclusively to customers' exact specifications. The company's specialty lies in these custom assemblies, and unique manufacturing processes give Belden the flexibility to produce small batches just as cost-effectively as high volume standard universal joints. Belden supplies an extensive line of high-quality precision universal joints with complete shaft assemblies as well as couplings for a wide range of customers with unique applications. These applications include steering and shift linkage assemblies for specialty vehicles as well as industrial and off-road vehicles, aerospace, packaging/converting and conveying equipment, food processing equipment, steel roll forming and leveling equipment, machine tools and woodworking equipment for the furniture industry, and OEM machine tools. Materials include high grade alloy, all grades of stainless steel, naval brass and aluminum.

Contact:
Belden Inc.
2500 Braga Drive
Broadview, Illinois 60155
Tel.: 708 344 4600
Fax: 708 344 0245
E-mail: [email protected]
Internet: www.beldenuniversal.com