Tube Fabrication and Bending Services
Custom Tube Bending to Your Specifications from Classic Tube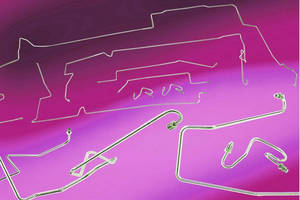 Lancaster, NY: Being the industry leader in direct replacement pre-bent tubing has allowed CLASSIC TUBE to also become the leader in custom tube bending. CLASSIC TUBE will accurately bend Stainless Steel or OEM steel tubing to match your supplied pattern, install the fittings and create the flares you need for your project.

Custom automotive modifications like engine swaps, disc brake upgrades, transmission changes, fuel line routing, etc. all require custom tube bending. CLASSIC TUBE can create whatever you need in 1/8 to 5/8-inch tubing, along with oversize fuel lines for high horsepower applications. No job is too large or too small for CLASSIC TUBE.

Regardless if you need one custom tube or the plumbing for a completely custom vehicle, CLASSIC TUBE can make it exactly as you require. Complimenting their stock replacement pre-bent fuel, transmission, brake, vacuum and hydraulic lines, their custom work will fill in any gaps you have in the project. They also have brake bending tools, fluid, fittings, distribution blocks and more for your custom job. To preview all their tubing products and fluid transfer accessories visit www.classictube.com.

For additional information contact the experts at CLASSIC TUBE, 8o Rotech Drive, Lancaster, NY 14086, 800-882-3711, Fax: 716-759-1014. Solve all your automotive plumbing problems with CLASSIC TUBE!


More from Communication Systems & Equipment