Custom Stainless Steel Tanks for Paint Storage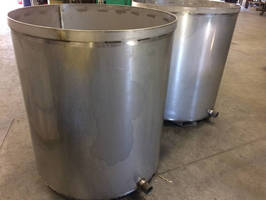 On October 19, 2016, Keller-Angelillis completed two (2) 250+ gallon stainless steel tanks for Sea Hawk Premium Yacht Finishes of Clearwater, FL.



Sea Hawk, the world's leading premium nautical coating brand, was looking to add additional paint storage tanks and called upon Keller-Angelillis to custom fabricate their request. The two round tanks were made out of T304 stainless steel. Both tanks were 48" tall. The diameter was 3ft-6". The custom tanks were welded using the MIG method on the outside and the TIG method on the inside.



Sea Hawk wanted to be able to move these tanks with a forklift, so 12GA stainless steel channels were added to the bottom for easy mobility.



It took approximately 2 weeks from receipt of order to completion.

More from Electronic Components & Devices