Custom Rubber Manufacturing aids throwable camera development.
Press Release Summary: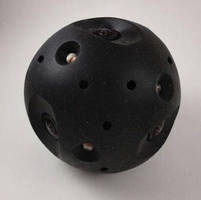 Custom-designed outer skin supplies appropriate amount of bounce and energy absorption for Bounce Imaging's softball-sized, throwable, tactical camera ball, Explorer, which transmits 360° images to mobile device when tossed into such instances as hostage situations, burning buildings, or earthquake rubble. Design iterations varied regarding polymer type, hardness, heat resistance, modulus, and rebound properties. Camera increases safety for first responders and police personnel.
---
Original Press Release:

Jefferson Rubber Assists in Development of New Tactical Camera Ball for First Responders



Worcester, MA – Jefferson Rubber Works Inc., a custom manufacturer of rubber molded products, has played a key role in the development of a new tactical camera ball developed by Boston based technology company Bounce Imaging.



The tactical unit is a softball-sized throwable camera that could almost instantly transmit 360-degree images to a mobile device when tossed into hidden areas such as hostage situation, burning building or the rubble of an earthquake. The idea was originally conceived with first responders' safety in mind, but it quickly became clear that there was immense value for giving police personnel an idea of what they could encounter in potentially dangerous situations. The Boston startup is in the process of shipping out the first batch of 100 Explorers which will be tested out by the Revere/North Metro SWAT team and the Maine Department of Corrections among other organizations.



This new product was recently showcased at a first ever White House demo day.  Jefferson Rubber Works has been working extensively with Bounce on the development and manufacture of the outer skin of the camera ball. The challenge was to develop a design that would support the function of the ball, manufacturability, and supply the appropriate amount of bounce and energy absorption.



The team at Jefferson Rubber worked closely with engineers at Bounce to insure the molded outer covering met all specifications. "We ran through many iterations of the design including polymer type, hardness, heat resistance, modulus, and rebound properties of the material so the camera unit would perform as needed in extreme situations", said Jefferson Rubber  Sales and Marketing Director Christen Holmberg. "As a custom manufacturer we look forwarding to solving our clients' needs and challenges and the Bounce project is an excellent example of our molding and engineering capabilities", Holmberg said. "We look forward to following the progress of the Bounce project and are proud to be a small part of this effort to safeguard first responders and military personnel in the field."



About Jefferson

Jefferson Rubber Works is a leading manufacturer for over thirty- five years of custom precision, injection molded rubber products.  Jefferson Rubber's staff brings a broad spectrum of expertise and insight to every job. The company offers complete in-plant engineering services, from prototype design to finished product.  For more information call 508-791-3600 or visit the Jefferson Rubber Works website: www.jeffersonrubber.com.



About Bounce Imaging

Bounce Imaging develops sensor technology to help keep first responders safe by allowing them to safely view hazardous environments remotely and at low cost. For more information visit http://bounceimaging.com/

More from Machinery & Machining Tools