Custom LCDs feature multi-window display processor.
Press Release Summary: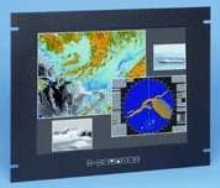 Suited for mobile and harsh environments, custom LCDs provide real-time performance and come in 20-55 in. screen sizes with up to 1920 x 1200 pixel resolution. They support Hi-Res RGB, HDTV 1080i/720p, S-Video, component, and composite video, and optional DVI inputs and are offered with resistive, capacitive, surface wave, or IR touch screen integration. Features include web-based control, smooth zoom/pans, and dynamic window sizing and positioning.
---
Original Press Release:

Custom LCD Displays Integrated with RGB Spectrum's Multi-Window Display Processors


April 13, 2005 Alameda, CA - RGB Spectrum has collaborated with industry-leading LCD display manufacturers to offer custom- designed LCD displays with built-in View® multiple window display processors for use in mobile and harsh environments. These space- efficient displays offer real-time performance for mission critical applications including industrial control rooms, process automation systems, medical operating rooms, mobile command centers, emergency response vehicles, and security monitoring facilities.

RGB Spectrum and LCD display manufacturers offer high resolution displays integrated with RGB Spectrum's View display processors. Available in screen sizes from 20 to 55 inches with an assortment of options and configurations designed to customer specifications.

The integrated LCD displays are currently available in sizes from 20 inches to 55 inches with resolutions up to 1920 x 1200 pixels. Depending upon screen size, the LCD display can be equipped with any of RGB Spectrum's display processor models, including the SuperView, giving the integrated LCD display the ability to accept up to 36 inputs, 12 of which can be displayed simultaneously.

The built-in display processors offer outstanding image quality and leading-edge features such as web-based control, dynamic window sizing and positioning, custom borders, window titling, fade effects, smooth zoom/pans, freeze, and user selectable colored and shaded backgrounds. They support a wide range of input signals: high resolution RGB, HDTV 1080i/720p, S-Video, component, and composite video, and optional DVI inputs. Display alternatives are virtually infinite. The LCD display windows can be independently positioned, scaled from icon size to full screen, overlaid with computer graphics, panned and zoomed, and overlapped with other display windows.

The integrated LCD displays are available in a range of models and custom configurations. Options and enhancements include protective glass, glass coatings, mounting configurations, resistive, capacitive, surface wave or infrared touch screen integration, backlighting, mechanical packaging, various ruggedization augmentations to accommodate temperature, shock, and vibration, corrosion-resistant and environmentally sealed enclosures, choice of electrical and mechanical interfaces, and an array of custom colors and bezels.

RGB Spectrum's View® multiple window display processors are used in medical center operating rooms worldwide for use in cardiothoracic surgery, endoscopy, and neurosurgery.

Innovative design, exceptional image quality, superior performance, and maximum flexibility make the new integrated LCD displays ideally suited for any application requiring display of multiple images on a space-efficient, compact screen.

For more information on the new View-equipped LCD displays, contact RGB Spectrum at sales@rgb.com or call 510-814-7000

RGB Spectrum® is a leading designer and manufacturer of videographic and multimedia hardware subsystems. Products include the View(TM) family of video windowing systems, the RGB/Videolink® line of scan converters, the DGy(TM) digital recording system, and SuperWall(TM), ComputerWall® and MediaWall® multi-screen display controllers. RGB Spectrum is based in Alameda, California, and can be reached at 510-814-7000 and on the internet at www.rgb.com.

More from Electronic Components & Devices