Custom Keyboard provides security in retail and banking.
Press Release Summary: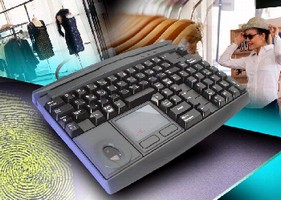 Eliminating problems of lost, swapped, or stolen PIN numbers and staff cards, Model AKC098 with integrated finger print reader enables traceability of transactions. Keyboard has 36-key QWERTY block with space bar and matrix area of 46 freely programmable key switches. Built-in U.are.U reader module from DigitalPersona has USB interface and is compatible with all editions of Windows OS. Finger print data is stored as binary number string, so identities are not put at risk.
---
Original Press Release:

First Custom Keyboard With Biometrics



Reading, UK, December 6, 2006 - Designed to provide greater security in retail stores and banking, the AKC098 is a compact, customisable keyboard that eliminates the problems of lost, swapped or stolen PIN numbers and staff cards. When staff log-on to IT systems or to authorise a transaction, the use of the keyboard, with its associated finger print reader, increases the traceability of transactions, reducing shrinkage in retail environments and providing increased security for retail banking transactions. The use of such a system also protects employees from identity theft and the risk of fraudulent activities being carried out in their name. Furthermore, because fingerprints cannot be lost or forgotten, the AKC098 cuts wasted time.

Access offers a wide range of base products in the AKC family, each of which can be easily and quickly customised for individual applications. This avoids the delays and up-front engineering charges associated with a full custom design and means that small quantities are both commercially viable and available on short lead times. Integrating the finger print reader into the keyboard reduces clutter, simplifies installation and makes the high-speed device easy to use.

The built-in 'U.are.U' finger print reader module is a rugged, proven device manufactured by DigitalPersona. It has a USB interface and is compatible with all popular editions of the Windows operating system, including server versions. Users can be enrolled so that any of their 8 fingers and two thumbs can be used for log-on. The finger print data is stored as a binary number string, not as an image, so users' identities are not put at risk.

The keyboard can be supplied with an optional integral magnetic swipe reader. It has a 36 key QWERTY block with a space bar and a matrix area of 46 freely-programmable key switches. Most commonly used functions can be programmed into the keys and made available with a single keystroke. Custom made key tops layouts can be supplied to match a users POS software requirements.

The AKC098 stores its layout permanently in non-volatile memory. A USB glide-point touch pad mouse can also fitted as a customer specified option. The AKC098 is housed in a robust plastic (ABS) enclosure, measures 293(W) x 187(D) x 40(H) mm and weighs approximately 2Kg, including its 2.9m connecting cable.

For further information and reader enquiries:
Roger Wylie, Managing Director,
Access Limited,
18 Suttons Business Park,
Reading, Berkshire
RG16 1AZ, UK
Tel: +44 118 966 3333
E-mail: roger.wylie@accesskeyboards.com
Web: accesskeyboards.com

About Access
Access, an ISO9001 accredited company based in Reading (UK), designs, manufactures and distributes innovative equipment that enables fast and accurate input of information into electronic systems. Products include custom and standard computer keyboards, keypads, OCR and biometric passport readers, bar code readers, magnetic swipe card readers and smartcard readers. The company also provides text displays for point-of-sale terminals. Over three-quarters of the products sold are created to meet the requirements of a specific application and Access works closely with its customers to understand their challenges and to come up with reliable solutions that provide effective functionality at the lowest cost-of-ownership. All of them are designed to streamline information processing and save both time and cost. All meet the highest standards in electrical, mechanical and aesthetic design.

Customers of Access are found throughout the world. The company's main markets are retail point-of-sale, retail banking, airports (check-in systems and boarding gate readers), stock exchanges, rugged mobile computing and industrial equipment. Major customers include Harrods, the New York Stock Exchange, Barclays Bank, British Airways and Qantas. Access designs and manufactures in the UK. Hardware and software engineering is based here too, and the company has extensive experience in meeting international standards for equipment interfaces and operating systems. Access is a company committed to providing a responsive and professional service to its customers. It also prides itself on maintaining the highest standards of integrity and business ethics. The company values long-term relationships with customers and relishes the challenges of helping them manage the input and output of data from electronic systems in the most cost-effective way.


More from Fluid & Gas Flow Equipment