Custom Floor Mats offer OEM precise fit for trucks and SUVs.
Press Release Summary: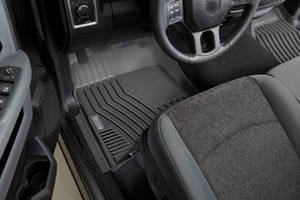 Custom floor mats and liners available via Michelin® EdgeLiner™ program allow owners of light trucks and SUVs to acquire custom-fit, injection molded mats that feature precise, laser fit measurements. Engineering-grade resin material, which exhibits durability and flexibility, also repels water to prevent slippery situations, while deep tray design and rugged, all-weather topography shields vehicle interior from debris. Additionally, anti-slip nib backing keep mats securely in place.
---
Original Press Release:

Remington Industries Will Introduce Michelin® EdgeLiner(TM) Custom Floor Mat Program at AAPEX 2013



Utilizes advanced laser scanning technology for best custom fit floor mats for most popular truck and SUV applications



(Ooltewah, Tenn.) – Remington Industries, one of the world's most innovative automotive accessory companies, will introduce its new Michelin® EdgeLiner™ custom floor mat and liner program for light trucks and SUVs at the 2013 Automotive Aftermarket Products Expo (AAPEX) in Las Vegas, Nev. Utilizing the latest laser technology, EdgeLiner allow owners of popular trucks and SUVs to purchase a custom fit mat that precisely fits their vehicle.



"Three out of four consumers told us that fit and size are the most significant factors they consider when purchasing a floor mat," said Tim Parkes, CEO, Remington Industries. "These important preferences beat out price, ability to clean and style. As a result, we are excited to launch the EdgeLiner program to the aftermarket because a professional, custom fit mat offers the best coverage and maximum protection for consumers."



Michelin EdgeLiner mats are injection molded and feature precise laser fit measurements to ensure the best possible fit for each vehicle. A deep tray design and rugged, all-weather topography shields the vehicle interior from debris. Michelin EdgeLiner mats are made from a unique, engineering grade resin for superior durability. Unlike competitive materials, Remington's material is highly flexible. The material also repels water so it is not slippery when wet. An OEM precise fit and additional anti-slip nib backing keep EdgeLiner mats securely in place.



Michelin EdgeLiner mats will be available for popular trucks and SUVs including the 2008–2013 Ford F Series, 2008–2013 GMC Sierra, 2008–2013 Chevrolet Silverado and 2002–2013 Dodge Ram Series. Consumers will be able to purchase custom floor liners for the front and/or second row of their vehicle, laser fit to perfection for maximum coverage. In the future, the company is planning to add EdgeLiner for popular passenger vehicle applications.



Remington Industries will display its new Michelin EdgeLiner program at AAPEX booth #4238.



For more information on Remington Industries and its complete line of vehicle solutions for interior floor protection, organization and safety, phone 423-238-3455 or visit www.remingtonind.com.



About Remington Industries

Remington Industries is a category leader in vehicle solutions for interior floor protection, organization and safety. As one of the world's largest automotive accessory companies, Remington Industries brings more than 30 years of consumer research, product engineering and design to each product category. In addition to selling products under its own Remington brand, the company goes to market with leading licensed brands from Michelin® and Rubbermaid®. Remington has over 20 years of experience manufacturing for original equipment manufacturers and is the exclusive supplier for Toyota Canada. For more information, visit www.remingtonind.com.



For Further Product Information, Contact:              

Lisa Moses

Vice President of Marketing, Remington Industries

423-702-3199

lmoses@remingtonind.com



For Further PR Information, Contact:

Gary McCoy

Public Relations Director, The Marx Group

847-622-7228

gmccoy@themarxgrp.com



Contact information: Leslie Allen, The Marx Group, 2175 E. Francisco Blvd #F, San Rafael, CA 94901

More from Services