Custom, Extreme Ambient Condition Motors, Drives and Hoists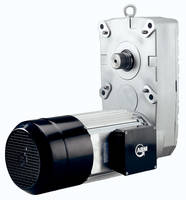 ABM Drives has vast experience in developing and producing gearmotor systems for demanding applications, such as dockside crane hoists, trolley and bridge drives They are engineered for many years of severe duty cycles that demand minimum maintenance and need to meet the toughest requirements for reliability and durability.
ABM hoist drives are designed for decades of exposure to extreme ambient conditions. Drives must be low maintenance because they are not easily accessible. ABM hoist drives incorporate experiences from other application fields with extreme demands on availability, durability and safety; demonstrated with more than 500,000 overhead crane drives manufactured in over 25 years. Custom ABM Drives are suitable for ambient temperatures down to -40°C.
Hoist drive units from ABM Drives lift loads between 3.2 and 40 metric tons with absolute safety and reliability. Designed for industrial cranes, dual-speed versions are powered by 2.5 to 20 kW asynchronous cylindrical-rotor motors with torque transmitted by 3-stage aluminum parallel shaft gearboxes. Units are suited for lifting speeds of 4 to 8 m/min at drum diameters of 140 to 405 mm and 4/1 reeving. Inverter-controlled GH40000 40 metric ton versions, equipped with 38 kW motor with encoder feedback, allows for lifting speeds of 4.9 m/min (higher lifting speeds up to 7.6 m/min are possible with reduced lifting weights) at 4/1 reeving. Wear-resistant dual surface safety brake is standard.
In addition to a complete line of hoist drives ABM Drives also offers with two product lines the right solution for every custom hoist and crane travel motor and drive speed and accuracy requirement. The Profi-Line offers two travel speeds. Pole-switching motors (8/2-pole) with specially designed windings and rotors allow for a safe, soft start. Typical applications are the vibration free transport of sheet metal coils or handling of components for assembly. The Automation-Line is designed for variable speeds. Especially for inverter use, designed motors allow for freely programmable acceleration and deceleration ramps via inverters. This guarantees exceptionally soft start and braking characteristic of the drive units, minimizing load swings. Automation-Line drive units are especially well suited for use in the glass industry, handling of paper coils, molds or other large dies.
More from Non-Industrial Products