Power Transmission and Timing Belts
Custom Drive Belts provide abrasion resistance.
Press Release Summary: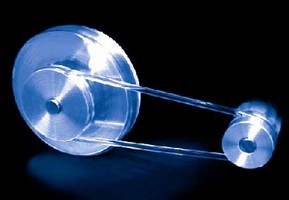 Manufactured to metric or inch requirements, PYRATHANE 88A Drive Belts are made of polyester-based polyurethane with Shore hardness of 88A. Round belts can be custom made with cross sectional diameters from .062-.562 in., while flat belts range from .030-.187 in. in thickness and in widths up to 1.500 in., both with no max length restriction. PYRATHANE belts provide quiet operation in small parts conveyors, instrumentation drives, and floor care equipment.
---
Original Press Release:

New High Performance Pyrathane 88a Drive Belts



PYRATHANE 88A is Polyester based polyurethane with a Shore hardness of approximately 88A. Under test at Pyramid for over a year, this material has demonstrated a desirable combination of physical properties which make it well-suited as a drive belt.

PYRATHANE 88A will provide approximately 30% more tension than our standard Pyrathane 83A, when applied with the same percent of stretch, thus providing a greater level of drive. Even with the greater hardness and increased tension, this material's flex fatigue resistance is not compromised and is very similar to our standard Pyrathane 83A. Coefficient of friction is also quite good as is abrasion resistance.

Pyramid Inc. manufactures custom-made polyurethane belts in round and flat cross sectional shapes in a variety of materials with characteristics specifically selected for drive applications. We stand behind our superior quality products with a limited lifetime warranty against manufacturing defects, made possible by thirty-five years of experience.

Our belts can be made to either metric or inch requirements and O-ring cross sectional diameters are also available in our round belts. Round belts can be custom made with cross sectional diameters from .062" (1.58mm) through .562" (14.27mm) with no maximum length restrictions. Flat belts can be made from .030" (.76mm) through .187" (4.75mm) in thickness and in widths up to 1.500" (38.1mm) and again, there is no maximum length restriction.

Pyrathane belts embody superior abrasion resistance, excellent flex life and a high coefficient of friction. Belts created with this combination of properties are not only tough and trouble free, but provide a clean and quiet method to transmit power or to convey a variety of products.

Applications include paper transports, small part conveyors, currency handling devices, floor care equipment, hobby lathes, live roller conveyors, instrumentation drives, phonograph turntable drives and a myriad of others diverse uses.

Please contact us for additional product information and samples made to meet your specifications.

Pyramid Inc., P.O. Box 200, Newton, IA 50208
Phone (641) 792-2405 Fax (641) 792-2478
Email sales@pyramidbelts.com
Web site www.pyramidbelts.com

More from Machinery & Machining Tools