Custom Delrin Plastic Machining and Assembly by Delaware Metals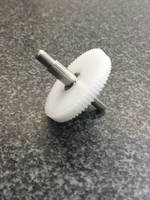 Delaware Metals, located in Newport, DE, machines exotic plastics and metals to our customer's specifications.  We can handle a variety of materials that other machine shops do not work with due to their properties. Sometimes the materials are a little more familiar, in this case gears made from Delrin® and then installed on a stainless steel shaft. These parts are made in-house with CNC machines. We then assembled the parts for shipment to our customer. The gear assembly will be used inside a gear box for the agricultural industry.



About Delaware Metals:

In continuous operation since 1953, we specialize in precision CNC machining as well as the prototyping, fabrication and assembly of metal and composite materials for aerospace, automotive, medical device, metrology, nuclear, and pharmaceutical applications.



The consistent and steady growth of Delaware Metals is due to a commitment to improvement, innovation, quality craftsmanship, and customer satisfaction. These are the basic tools in our quest to provide you, our customer, with the best quality products and service.



We are always willing to expand our services to meet the needs of our customers, and we are will add equipment to increase our capacities when customer requirements dictate doing so.



For more information, please call 302-994-7444 or visit our website www.delawaremetals.com.  





Related