Custom Capstocks meet diverse color and weathering needs.
Press Release Summary: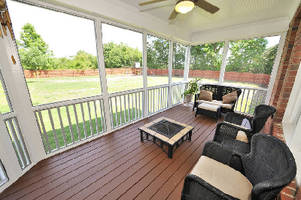 Using polymer alloy technology, Custom-Formulated Capstocks impart weather resistant performance in outdoor building products such as fences and decking. Coextruded surface compounds meet requirements for rigid PVC and polyolefins, while providing colors from basic outdoor white to assortment of very dark colors. Products are available that yield variegated surface, with toners that provide rich natural undertone and streakers that impart realistic wood-grain effect.
---
Original Press Release:

Making NPE Debut, Comprehensive Portfolio of Custom Capstocks Meets Diverse Color and Weathering Needs of Building Products



With 2014 Acquisition of Viking Polymers, Teknor Apex Now Formulates Diverse Capstocks for Outdoor Rigid Profiles, including New 'Streaking' Compound for Wood-Like Surfaces



PAWTUCKET, RI, U.S.A., -- Virtually every rigid profile application in outdoor building products like fences and decking places highly specific demands on the coextruded surface compound, or "capstock," that imparts weather-resistant performance.



Making its market debut at NPE2015 is a polymer alloy technology platform that enables Teknor Apex Company to custom-formulate capstocks to meet these requirements for rigid PVC and polyolefins, while providing colors from basic outdoor white to an assortment of very dark colors (Booth S24055). This comprehensive capability combines the specialized product offering developed by building products specialist Viking Polymers (acquired by Teknor Apex in 2014) and the technical and manufacturing depth of Teknor Apex, which is one of the world's largest custom compounders and a producer of rigid PVC compounds in the U.S. and Asia.     



Along with the integrated Viking portfolio of products, Teknor Apex now offers compounds that yield a variegated surface, with toners that provide a rich natural undertone and "streakers" that impart a realistic wood-grain effect. For wood/plastic composite applications such as decking, the company offers a line of polyolefin capstocks.



Many of the capstocks available from Teknor Apex are alloys of PVC and other resins with weatherable polymers such as ASA.  The company supplies them in pellet form, including pre-colored compounds matched to customer requirements. Some of the recommended applications include railing systems, window components, fencing, siding, and decking.  In addition to an extensive laboratory for accelerated weathering tests, Teknor Apex does testing at multiple field locations, reflecting the wide variation of requirements posed by outdoor applications.



"Outdoor building products present myriad combinations of capstock requirements which Teknor Apex is prepared to address through custom formulation," said John Macaluso, industry manager, building and construction, for the Vinyl Division of Teknor Apex. "The anticipated climate conditions, the vertical or horizontal orientation of the product in end-use, special physical properties like scratch or mar resistance, as well as cap thickness—these and other factors all come into consideration."



John Hickman, now business development manager for Teknor Apex, reflected on Viking Polymers' two decades of supplying capstocks and other specialty compounds to building products companies: "Achieving a successful balance of end-use properties, processability, and aesthetics calls for extensive knowledge and experience," he said. "We begin every application solution by having a conversation with the customer to get a clear definition of requirements and expectations."    



About Teknor Apex. Teknor Apex Company, a privately held firm founded in 1924, is one of the world's leading custom compounders of plastics.  Teknor Apex produces flexible and rigid vinyl, thermoplastic elastomers, nylons, toll and specialty compounds, color masterbatches, specialty chemicals, bioplastics and hoses. The company is headquartered in Pawtucket, RI, U.S.A. and operates thirteen facilities worldwide in the United States, the Netherlands, the United Kingdom, China and Singapore. To learn more visit: www.teknorapex.com.



The Vinyl Division of Teknor Apex Company is a leading manufacturer of compounds based on PVC, including ApexÒ flexible and rigid vinyl, FlexalloyÒ vinyl elastomers, FireguardÒ low-flame, low-smoke compounds for wire and cable, and BioVinyl™ compounds with bio-based plasticizer. The Division is an international supplier to the appliance, automotive, construction, medical device, wire and cable, and other industries.



READER INQUIRY INFORMATION:  Address all mail inquiries to Teknor Apex, 505 Central Avenue, Pawtucket, RI  02861 U.S.A. Tel: 1-401-725-8000.  Tel. from U.S. only: 1-800-554-9892. Fax: 1-401-729-0166. E-mail:

[email protected]

.