Custom Bellows Type Protective Covers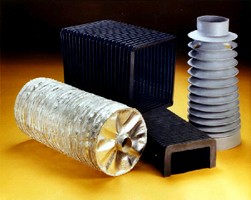 New Berlin, WI - March, 2006...Gortite® custom engineered protective bellows type
covers are available for cameras, enlargers, medical, dental, and office machinery; for machine tools, robots, precision slides, automated handling equipment, and other moving machinery. These bellows type covers are designed to protect machinery from oil, dirt, chips and other contaminants in any type of environmental condition. Manufactured of durable elastomer coated fabric materials, Gortite® bellows available include way protectors, expandable connections, sealed tight photographic bellows, linear bearing way covers, ballscrew and rod covers, and die set shields. They can be custom designed in any size or shape to meet any application. Request Catalog PR-100.

A & A Manufacturing Company was founded in 1945 and specialized in developing products
from synthetic coating and fabrics. The techniques we developed in the early application of elastomer coated fabrics evolved into today's highly recognized line of dependable Gortite® protective covers. Today you'll find Gortite® bellows type covers for cylinder rods and shafts, actuating screws, machine ways and linear rails. Other uses include flexible connections, expansion joints and camera bellows. The industries we serve have expanded to medical and dental equipment, photographic equipment, material handling and packaging machinery, plastics machinery and transportation vehicles.

For more information: A & A Mfg. Co., Inc., 2300 S. Calhoun Rd., New Berlin, WI 53151. Phone 262-786-1500 or 800-298-2066. Fax 262-786-3280. E-mail [email protected] Website www.gortite.com. PDF download files available.