Custom Bearings eliminate metal-to-metal rubs.
Press Release Summary: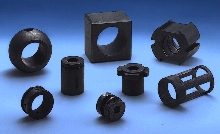 Custom designed GRAPHALLOY graphite metal/alloy self-lubricating bearings are available in over 100 grades with specific properties. They work in acids, alkalies, and hydrocarbons, and suit continuous operation in temperatures to 1,000°F as well as cryogenic conditions. GRAPHALLOY non-galling, corrosion resistant bearings allow pumps to survive run dry conditions, slow roll operation, and frequent stops/starts.
---
Original Press Release:
Graphalloy® Unique Designs Provide Cost Saving Solutions

Yonkers, NY May 28, 2002. . .Lifetime cost savings and operating advantages are provided by custom designed GRAPHALLOY, graphite metal/alloy self lubricating bearings, that solve a wide range of difficult and highly specialized applications with unique designs. With over 100 grades with specific properties, GRAPHALLOY works in acids, alkalies, hydrocarbons and other harsh environments including continuous operation in high temperatures (1,000°F) and cryogenic conditions greater operational savings over other bearing materials. GRAPHALLOY is non-galling, corrosion resistant, eliminates metal-to-metal rubs and allows pumps to survive "run dry" conditions, slow roll operation and frequent stops/starts where metal and plastics fail. GRAPHALLOY is FDA accepted grades for food service operations. Used in virtually every manufacturing and processing industry, GRAPHALLOY custom products are proven in equipment such as: pumps, valves, turbines, conveyors, ovens, kilns, mixers, textile equipment, plating tanks, food processing equipment and more.

Graphite Metallizing is an engineering-driven manufacturer of a wide array of graphite-based bearings serving industries as diverse as aerospace, automotive, chemicals, fertilizer, pipelines, plating and printing, refining, pharmaceutical, sewage treatment, steel and timber; distribution is national and international. Offering off-the-self and custom-designed products, the company produces bearing materials and finished bearings and assemblies, These include bushings, flange bearings, hanger bearings, pillow blocks, seals, thrust washers, wheel assemblies, and electrical contacts, brushes, slip rings and binding posts. The company is registered as complying with ISO 9002.

Editorial Contact:

Client: Bob Stowell, Director of Marketing

Graphite Metallizing Corporation

www.GRAPHALLOY.com

e-mail: sales@graphalloy.com

Agency: Ron Ward,

Ward Communications,

Tel. 860-676-8338 Fax. 860-676-9669

e-mail:rtwtmr@attbi.com
More from Controls & Controllers