Curved Flat Belt Conveyors transfer small food products.
Press Release Summary: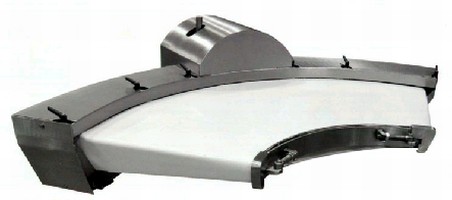 Featuring 5/8 in. nosebar at both ends, sanitary Aquapruf Series 7600 allows for transfer of items as small as a penny. Systems are available in widths of 12, 18, 25, and 36 in. with curve angle configurations of 45, 90, and 180°. They handle loads up to 150 lb and operate at speeds up to 173 fpm at curve centerline. Pinch roller drive is located away from belt to prevent contamination of conveyed products. Entire system can be disassembled for cleaning in 30 sec without tools.
---
Original Press Release:
Convey Small Product More Easily With Dorner's New Sanitary 7600 Series Curved Flat Belt Conveyor
HARTLAND, Wis., (Nov. 20, 2006) - Dorner Manufacturing's 7600 Series Curved Flat Belt Conveyor lends a big hand when food manufacturers have to transfer small products like cookies, pastries and other small snacks effectively and continuously around curves. "Dorner's curved belt conveyors feature a 5/8 inch nosebar at both ends, allowing for the transfer of items as small as a penny," said John Kuhnz, food marketing manager for Dorner Manufacturing. "These conveyors also feature a durable and consistent pinch roller drive, located away from the belt to prevent the contamination of food and other conveyed products." The 7600 Series Curved Flat Belt Conveyor is one of the newest members of Dorner's AquaPruf family of sanitary conveyors. The 7600 Series represents the latest engineering designs to provide the highest level of sanitation in the market today and the fastest cleaning times in the industry for wash-down conveyors. The entire system can be disassembled for cleaning - without tools - in only 30 seconds. The 7600 Series is ideal for customers in industries such as bakery/snack foods, confectionary, ready-to-eat foods, raw meat, poultry and seafood, pharmaceutical and clean rooms. Features of the 7600 Series Curved Flat Belt include: o Curve angle configurations of 45, 90 and 180 degrees. o Stainless steel rod wearstrip bedplate. o Tool-less quick release belt tension, allows for easy for quick access to the inside for cleaning. o Continuous TIG welded 304 stainless steel frame designed with no horizontal surfaces for optimal cleaning. o 400 Series stainless steel bearings filled with HI FDA lubricant, designed for low pressure soap and water cleaning cycles. o Pinch roller drive belt system that operates at minimal belt tension for longer nosebar bearing life. o FDA Approved belting and plastic components. o Loads of up to 150 pounds. o Widths of 12, 18, 24 and 36 inches. o Speeds up to 173 feet per minute at curve centerline. The AquaPruf brand debuted in October of 2003 with the 7200 and 7300 Series, and was joined by the 7400 Series in April of 2005. Together, the AquaPruf family of sanitary conveyors is designed to meet any application in virtually any environment. For more information on Dorner's Curved Flat Belt Conveyors, or to find out how the 7600 Series can assist customers with their specific applications, visit www.domer.com or call (800) 397-8664. Hartland, Wisconsin-based Dorner Manufacturing is a world leader in the design, manufacture and distribution of high-quality conveyors and related equipment. Since 1973, companies from around the world have turned to Dorner conveyors for greatly improved efficiency and productivity. For more information about products or company news, visit Dorner's Web site at www.donier.com or call 1-800-397-8664.
More from Architectural & Civil Engineering Products