Electrical Sensors / Detectors / Transducers
Current Transducers measure current from 6-50 Arms.
Press Release Summary: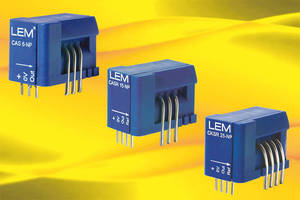 Designed for AC and DC isolated current measurement from 6-50 Arms nominal, CAS, CASR and CKSR family of PCB mounted current transducers feature 7-30 ppm/K of thermal offset drift, and have response time less than 0.3 microsec. Products utilize Closed Loop Fluxgate technology, and operate from single 5 V supply. Plastic case of unit has Comparative Tracking Index of 600. CKSR model has one more primary pin than 3 pins of CAS/CASR models which enables creepage and clearance distances of 8.2 mm.
---
Original Press Release:

LEM Uses Fluxgate Technology to Reduce Current Transducer Size by 30 Percent



Key points:

o Several current ranges from 6 to 50 ARMS in the same compact design
o 30 percent smaller than equivalent devices
o High accuracy at +85°C with low offset and gain drift
o Multi-range configuration
o Up to 8.2 mm clearance/creepage distances

GENEVA, Switzerland and MILWAUKEE, WI (February 4, 2009) -- LEM S.A., the world's leading manufacturer of isolated current and voltage measurement components, today introduced several ranges of PCB-mounted current transducers housed in a package 30 percent smaller than the company's LTS range of current transducers. The CAS, CASR and CKSR family of transducers is intended for AC and DC isolated current measurement from 6 to 50 ARMS nominal, up to three times the nominal values for the peak measurement and up to 300 kHz (+/-3 dB). All the models (6 ARMS, 15 ARMS, 25 ARMS and 50 ARMS) are housed in the same compact package and can be set up on PCB according to the needs of different ranges from 1.5 ARMS to 50 ARMS.

LEM designed these new transducers to respond to the technology advances in drives and inverters, which require better performance in areas such as common-mode influence, thermal drifts (offset and gain; max thermal offset drift for the models with reference access: 7 to 30 ppm/K according to the models), response time (less than 0.3 microseconds), levels of insulation and size.

To obtain this performance, LEM employs its Closed Loop Fluxgate technology which enables the company to combine high accuracy and affordable price without compromising any of the advantages of its LTS family, such as size, dynamic performance and wide measuring range.

Although the new transducers are 30 percent smaller than the existing LTS family, their insulation performance can withstand use in industrial applications without a special layout of the PCB. The CTI (Comparative Tracking Index) of the plastic case is 600. The CKSR model has one more primary pin than the three pins of the CAS and CASR models and a different primary footprint which enables higher creepage and clearance distances of 8.2 mm. This is particularly useful in applications that require higher insulation for high working voltages such as 600 VRMS according to the EN 50178 standard. Moreover, this additional primary pin allows a configuration of the CKSR 6-NP model for a nominal current range of 1.5 ARMS.

All CAS, CASR and CKSR transducer models have been designed for direct mounting onto a printed circuit board for primary and secondary connections and operate from a single 5 V supply. The CASR and CKSR models provide their internal reference voltage to a VREF pin. An external voltage reference between 0 and 4 V can also be applied to this pin.

The CAS, CASR and CKSR family of transducers is suitable for industrial applications such as variable speed drives, UPS, SMPS, air conditioning, home appliances, solar inverters and precision systems such as servo drives for wafer production and high-accuracy robots.

LEM
LEM is a market leader in providing innovative and high quality solutions for measuring electrical parameters. Its core products - current and voltage transducers - are used in a broad range of applications in industrial, traction, energy, automation, and automotive markets. LEM's strategy is to exploit the intrinsic strengths of its core business, and develop opportunities in new markets with new applications. LEM is a mid-sized, global company with approximately 900 employees worldwide. It has production plants in Geneva (Switzerland), Machida (Japan), Beijing (China), plus regional sales offices, and offers a seamless service worldwide. Further information is available at: www.lem.com.

More from Electrical Equipment & Systems