Electrical Sensors / Detectors / Transducers
Current Sensor is self-powered.
Press Release Summary: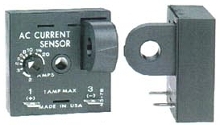 TCS Series Go/No Go Sensor/PLC interface can be directly connected to PLC's digital input module or to load rated up to 1 A. It can detect overcurrent or undercurrent events, and signal PLC or switch load device to ON or OFF. Onboard toroidal sensor monitors current flow through ac loads up to 50 A steady, 300 A inrush. TCS Sensor is available with adjustable or factory-fixed actuation point.
---
Original Press Release:
AC Current Sensor Go/No Go Sensor/ PLC Interface TCS Series with Adjustable or Factory Fixed Actuation Point

Entrelec SSAC, is pleased to announce that the TCS Series is now available with either an adjustable or factory fixed actuation point.

The TCS Series is the first low cost, self powered (no external power required to operate the unit), Go/No Go current sensor/PLC interface that can be directly connected to a PLCs digital input module or to a load rated up to 1 amp. It can detect overcurrent events (jams, plugging, locked rotor), or undercurrent events (failure of a heater, motor, lamp, or switching device), and signal the PLC or switch a load device ON or OFF. All at a price an OEM designer can afford.

The TCSs onboard toroidal sensor monitors current flow through AC loads up to 50 amperes steady, 300 amperes inrush. This device may be ordered with either an adjustable actuation point of 2 to 20 amperes or a factory fixed actuation point from 2 to 45 amperes. A 5% dead band is included to prevent rapid switching when the sensed current fluctuates nearm the actuation point.

When the current flowing through the monitored load exceeds the actuation point, the TCSs solid state output opens (models with normally closed output) or closes (models with normally open output). When ordered with a normally closed output, the TCS is ideal for overcurrent sensing in motor control applications where a latching Start/Stop switch is used. A normally closed output is also required for alarm applications where limit switches are connected in series. The solid state output switches a wide range of voltages 5 to 50VDC and 24 to 240VAC in 2 ranges.

The TCS Series was designed and packaged for use in price sensitive OEM equipment, commercial appliances, custom control panels, motor control panels, and alarm applications. Its compact size (2" x 2" x 1.6"), encapsulated one-piece construction, single screw mounting, 0.25" male quick connect terminals were all selected to provide the OEM design engineer with the lowest possible installed cost.

The TCS can be used to monitor loads less than 2 amps by passing the monitored wire through the sensor two or more times. To monitor load currents above 50 amps, an external current transformer is used.

The TCS series is UL recognized, CSA certified, and CE approved.

The TCS Series can be DIN Rail mounted by using the Y P1023 20 Rail Mount Adaptor. It is available from Entrelec distributors throughout the world.