Current Relay Switches record on/off status signal.
Press Release Summary: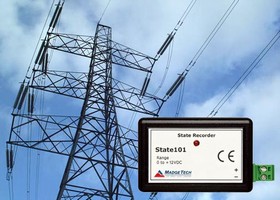 In combination with State Data Loggers, non-contact, current relay switches captures and records on/off transition data with time and date stamp. Built-in relay switch provides ON status signal when power is present, and deactivates to provide OFF status signal when power is absent. Recorded data discloses how long and when device has been powered on or off. Applications include detection of defective equipment and short cycling, and on/off studies of power, equipment, motor, and light.
---
Original Press Release:

Current Relay Switch with State Logger Series Records On/Off Status Signal



MadgeTech, Inc. of Warner, New Hampshire, is introducing a full line of non-contact, current relay switches used in combination with the series of State Data Loggers to record power ON/OFF state change.

The non-contact, relay switches detect when power is present. A built-in relay switch provides an "ON" status signal when power is present. When power is absent, the relay switch deactivates to provide an "OFF" status signal. Combined with the MadgeTech State Loggers, "ON/OFF" transition data is captured and recorded with a time and date stamp to provide power ON/OFF information.

The single channel State101 and State110 data loggers can record up to 13,107 time/date stamped state changes. The four-channel QuadState or eight-channel OctState data loggers can record up to 52,428 time/date stamped state changes. The recorded data discloses exactly how long and when a device has been powered ON or OFF. Typical applications include the ON/OFF studies of power, equipment, motor and light, the detection of defective equipment and short cycling.

MadgeTech's Data Logger Software is an easy to use, Windows®-based software package that allows the user to effortlessly collect, display and analyzes the data. A variety of powerful tools allows the user to examine, export, and print professional looking data with just a click of the mouse.

The Current Relay Switch/State101 Logger combination begins at $239.00. Literature is available upon request or go, online to www.madgetech.com

For more information contact:
MadgeTech, Inc.
Stephanie K. Brown, Marketing
201 Route 103 West / PO Box 50
Warner, NH 03278 USA
(603) 456-2011 / (603) 456-2012 fax
e-mail: stephanie@madgetech.com or info@madgetech.com

More from Electrical Equipment & Systems